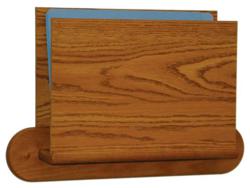 We want new and longtime customers alike to know that Plastic Products Manufacturing has more to offer than Plastic Products.
Norco, CA (PRWEB) February 07, 2013
In a departure from its more familiar clear acrylic product offerings, Plastic Products Manufacturing (PPM) today announced the addition of Wooden Chart Holders and File Holders to its line card, products mostly geared for the medical field.
Light Oak, Medium Oak, and Mahogany will be featured in a variety of Privacy Chart Holders, File Racks, and Open Ended Chart Holders most commonly used in physician offices and medical facilities. These racks are HIPAA compliant and come with various pocket configurations depending on customer needs. All are constructed using solid oak to keep patient files handy yet names and records private. They're also predrilled and will be shipped with hardware for easy wall mounting.
"We want new and longtime customers alike to know that Plastic Products Manufacturing has more to offer than Plastic Products," said PPM President William Saunders. "While we stand by the versatility and utility of acrylic, there are certain times and applications where it's important to offer other options for your clientele. In this instance, we recognized the need for a quality wooden chart holder and have filled that need with great success."
In addition to the aesthetic appeal of solid oak, these racks will also be incredibly functional. Single pocket chart holders are 12-1/2" wide and capable of holding files 2" thick. Three and five pocket holders will offer a deeper 1-1/4" pocket for thicker files, and there are slimmer four and ten pocket chart holders available as well.
PPM will still offer a selection of Acrylic Chart and File Holders for offices needing a look of clarity. The Wooden Chart and File Holders join the release of two other solid Oak line additions: Wood Brochure Holders and Wood Magazine Holders. Expect to see more details on these products in the near future.
Specializing in manufacturing and distributing Acrylic Display Products, Signage, and Point-of-Purchase displays for more than three decades, Plastic Products Manufacturing has long been an industry leader. PPM has a strong reputation for its top quality standards, outstanding delivery, and an exclusive "Customer Bill of Rights." The company's sign holders, literature displays, chart pockets, display holders, and other industry leading displays are immensely popular across a broad cross-section of industries, including hospitality, medical, automotive, and food service operations.
Among its top accounts, PPM serves the needs of Glaxo Smith Kline, H & R Block, Proctor and Gamble, Starbucks, WalMart, Walgreens, Hertz, T-Mobile, Target, and Honda just to name a few. For more information about chart holders or file holders and insight into these upcoming new developments, please visit http://www.plasticproductsmfg.com.