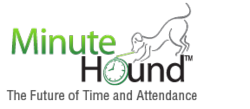 MinuteHound takes the hassle, stress and fear of theft out of managing employee time and attendance recording.
New York, NY (PRWEB) February 14, 2013
Physician and dental practices employ skilled people who utilize the best tools and most efficient processes to deliver quality patient care. Compliance with government healthcare regulations, insurance requirements, and labor laws, must all be carefully managed.
Controlling administrative costs is a major responsibility for doctors and business managers. MinuteHound has developed a state-of-the-art time and attendance tracking system that aids healthcare operators in reducing cost, eliminating time theft, and which provides valuable reports to maximize staff productivity.
This patented biometric time clock, along with the included cloud based attendance software, allows healthcare staff to sign-in and out with just a swipe of their finger. The fingerprint scanner instantly updates the software and posts the results on a web portal. No more expensive time clocks, time consuming manual entries, costly administrative errors, or exposure to time theft.
Healthcare providers using MinuteHound confirm payroll cost reductions of 2 to 8 percent. In fact, most practices realize a 2,300 percent return on their MinuteHound investment!
The MinuteHound solution is as easy to set up as it is to use. The biometric time clock is plugged into the USB port of any computer. Following installation, the time clock software is downloaded and employees are enrolled. MinuteHound prides itself on being user-friendly and highly efficient. The MinuteHound web-based portal gives managers a powerful set of analysis tools to query, sort, format, and print their staffing information.
The small business time clock software provides management with all the real-time tools they need to record, view, and produce formatted reports. From MinuteHound's portal, administrators can obtain staffing information, check on status, setup alerts, and much more. The software is the most powerful in the industry and gives management the flexibility to view their staffing information online at any time from anywhere.
Customers receive regular software updates featuring enhanced features and functions. These updates come standard and ensure cutting-edge performance without additional cost.
MinuteHound does not require a long term contract. I/T staff are not needed to install or operate this advanced technology. The expert U.S. based MinuteHound support team is available to answer questions and provide suggestions. MinuteHound eliminates the hassles, stresses, and fears associated with employee time and attendance.
MinuteHound Contact Information
Website: http://www.MinuteHound.com
Email: info(at)MinuteHound(dot)com
Phone: (800) 351-7237