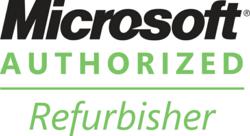 Sims can now offer customers fully operational refurbished desktop and laptop computers running genuine Microsoft software
West Chicago, Ill. (PRWEB) February 05, 2013
Sims Recycling Solutions, the global leader in electronics reuse and recycling, today announced it has become a Microsoft Authorized Refurbisher(MAR) program partner in the United States. Sims can now offer customers fully operational refurbished desktop and laptop computers running genuine Microsoft software.
Sims Recycling Solutions has years of experience professionally refurbishing computers and servers using best practices in data security and environmental responsibility. However, the MAR certification enables Sims to sell a more complex and sustainable product because these devices will now come equipped pre-installed with the Microsoft Windows 7 operating system.
"Sims Recycling Solutions has maintained this Microsoft partnership in Europe since 2011 and last year became the largest MAR in Europe, the Middle East and Africa based on Windows 7 sales," stated Steve Skurnac, President, Sims Recycling Solutions, Americas. "After the success Sims experienced with its MAR program in EMEA, it was only natural to want to expand the program to the United States so we can offer our customers here the same competitive refurbishment service. We can now provide a quality product at a great value while also extending the life of an electronic device."
"The Microsoft Authorized Refurbisher team is pleased to be expanding globally with Sims to deliver high quality refurbished personal computers with genuine operating system software in a sustainable manner both in Europe and the U.S. markets," stated Chris Acker, WW MAR Program Director.
The Microsoft Authorized Refurbisher program is for large refurbishers headquartered worldwide who meet a minimum average threshold of PCs shipped per month. Refurbishers in the program professionally refurbish desktop and laptop computers with genuine Microsoft software.
Sims Recycling Solutions
Sims Recycling Solutions (us.simsrecycling.com) is the global leader in electronics reuse and recycling, offering customers in every business sector comprehensive recycling services out of our 53 owned and operated sites across the globe.
Sims Recycling Solutions – owned by Sims Metal Management, a publicly traded company – has the global reach, expertise and infrastructure necessary to guarantee our customers that their data is secure, their electronic equipment is processed in an environmentally responsible manner, their reputation is protected and their compliance risks are eliminated.
In America, Sims Recycling Solutions operates 16 sites in Arizona, California, Florida, Illinois, Maryland, Nevada, New Jersey, Ontario, Tennessee, Texas and Vancouver.
Cautionary Statements Regarding Forward-Looking Information
This release may contain forward-looking statements, including statements about Sims Metal Management's financial condition, results of operations, earnings outlook and prospects. Forward-looking statements are typically identified by words such as "plan," "believe," "expect," "anticipate," "intend," "outlook," "estimate," "forecast," "project" and other similar words and expressions.
These forward-looking statements involve certain risks and uncertainties. Our ability to predict results or the actual effects of our plans and strategies is subject to inherent uncertainty. Factors that may cause actual results or earnings to differ materially from these forward-looking statements include those discussed and identified in filings we make with the Australian Securities Exchange and the United States Securities and Exchange Commission ("SEC"), including the risk factors described in the Company's Annual Report on Form 20-F, which we filed with the SEC on 12 October 2012.
Because these forward-looking statements are subject to assumptions and uncertainties, actual results may differ materially from those expressed or implied by these forward-looking statements. You are cautioned not to place undue reliance on these statements, which speak only as of the date of this release.
All subsequent written and oral forward-looking statements concerning the matters addressed in this release and attributable to us or any person acting on our behalf are expressly qualified in their entirety by the cautionary statements contained or referred to in this release. Except to the extent required by applicable law or regulation, we undertake no obligation to update these forward-looking statements to reflect events or circumstances after the date of this release.
All references to currencies, unless otherwise stated, reflect measures in Australian dollars.
"All other trademarks are the property of their respective owners."