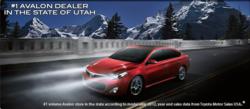 Orem, UT (PRWEB) February 06, 2013
Toyota Motor Sales USA names Brent Brown Toyota in Orem, UT the #1 Toyota Avalon dealer in the state of Utah. This is based on volume and 2012 end of year numbers provided by Toyota Motor Sales USA.
Larry Terry, general manager of Brent Brown Toyota, says, "The criteria set forth for this distinction requires that we go above and beyond and provide exceptional products and service."
Brent Brown Toyota is a premiere Toyota dealership in the Orem, Utah and serves the outlying communities of Salt Lake City, Provo, Park City, Draper and many others as well. The Toyota Avalon is the flagship luxury sedan produced by Toyota.
Brent Brown Toyota has proven to be one of the leading Toyota dealerships in Utah. They strive to provide the highest quality vehicles at the best prices possible. They understand that a new car is not just a purchase, it is an investment, and they want to build a relationship worthy of the investment a customer makes. No matter what department you have the pleasure to work with at Brent Brown Toyota, you can be assured that the service you receive will go well beyond your expectations.
For more information on Brent Brown Toyota as well as the excellent products and services they provide, please visit their website at http://www.BrentBrownToyota.com.