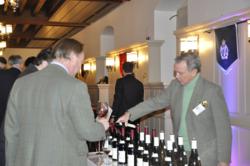 Its a wine lovers vintage which I hope will convert people to Burgundy
London, England (PRWEB UK) 7 February 2013
"A wine lovers vintage which I hope will convert people to Burgundy," is how Steven Spurrier described the 2011 vintage.
Despite an early spring and alternating weather patterns which lead to lower than anticipated yields, especially for Pinot Noir, the Corney & Barrow Burgundy tasting did not disappoint.
Defined as a pleasant surprise, Nigel Platts-Martin owner of some of London's most esteemed restaurants including, The Square and The Ledbury, commented on the forwardness of the vintage and its early drinking, which as many producers remarked is synonymous with an early spring and early flowering.
Alison Buchanan, buyer for Corney & Barrow, interviewed Steven Spurrier along with, arguably France's most eminent wine critic, Michel Bettane, at the recent Burgundy Tasting, at the Tower of London. When asked about the wines on show, Steven Spurrier said that they were charming, quite floral and with less use of oak. He said "Even I'm going to buy some and I have a lot in my cellar already, but I am so charmed by the wines."
On the point of pricing, Steven Spurrier noted the great value for money from the lesser known vineyards, many of which were on show at the Corney & Barrow tasting. Whilst prices and demand will remain high for the most sought after Domaines, there are certainly opportunities to discover some terrific wines which will give great pleasure and will not hit the wallet so hard, Beaune being a region to be explored.
On show were wines from Domaine Vincent Dampt, Domaine Rossignol-Trapet, Domaine des Variolles, Château de la Tour, Domaine Pierre Labet, Domaine de l'Arlot, Domaine Gilles Jourdan, Domaine Patrick Javillier, Domaine Matrot and Domaine A&P de Villaine.
For over 200 years, Corney & Barrow has been a touchstone of excellence in wine. Today, just as in 1780, the wine merchant is distinguished by its passion and innovative spirit. It has nurtured wonderful relationships with both valued customers and the finest winemakers – estates producing magnificent classic wines, as well as pioneers breaking new ground with contemporary styles. Corney & Barrow has led the way in championing wines that have become internationally renowned and has an unsurpassed portfolio, from bottles offering outstanding value for everyday drinking to en-primeur cases for laying down. The company is honoured to hold two Royal Warrants and is equally proud to have set new standards in service and impartial advice for all its customers. Let Corney & Barrow transport you on a journey of discovery in the fascinating world of wine.