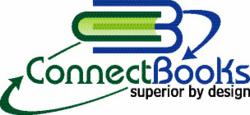 The ConnectBooks mobile apps make many on our staff more productive and I am more equipped to manage cash flow.
Chantilly, Virginia (PRWEB) February 12, 2013
In a recent survey of IT consultants in the accounting industry, they agreed that mobile apps are prominent in the future of the accounting industry. This applies to bookkeepers, accountants, and consulting firms alike. This trend is even more important to small business owners who struggle each month to balance income and expenses to avoid shortfalls.
With the current technology in place and innovative mobile apps such as ConnectBooks, there is no reason for those monitoring the financial health of a company to be tied to computer access only available while in the office.
Bolstered by the high usage rates of mobile devices, prices are very reasonable and affordable by all. If your teenager can afford an iPhone, iPad, Android mobile phone, or tablet, surely your company can afford something comparable with unlimited data. The monthly subscription cost of ConnectBooks is affordable and cost effective.
Why should your company use a mobile app such as ConnectBooks?
1. First and foremost is access to the accounting data at any time, from anywhere (as long as you have Internet access). This is especially important to the small business owner who needs to manage cash flow. This task demands diligence and constant monitoring of income and expenses. If income needs a boost, remind delinquent customers of late payments and offer discounts for early payment. If expenses need to be reduced, contact vendors to see if they will accept delayed payment.
2. Estimates can be created in the field at the prospect site, generated into PDF form, and emailed to the prospect.
3. Estimators and sales staff can review customer history (including payment history) to help determine prices when creating an estimate. They can also access inventory to see if materials are in stock or need to be ordered along with unit pricing.
4. Staff can create an invoice in the field, generate a PDF of the invoice, and email it to the client without returning to the office.
5. Estimates can be easily converted into contracts and contracts into invoices.
6. Field staff can see a prospect or client location on a map, get directions, send email, and make a phone call from the mobile device to the prospect or customer.
Small Business Owners face a challenge each month to avoid shortfalls. Two special features offered help owners and CFOs to manage cash flow:
1. Who Owes Me: Displays customers with outstanding debt sequenced by the highest outstanding balance displaying first. Equipped with this list, Owners can approach customers and encourage them to pay sooner.
2. Who I Owe: Displays suppliers where the company owes money. These vendors are also listed by the greatest unpaid balance. Equipped with this information, owners can approach vendors and request delaying payment.
Both ConnectBooks mobile apps provide anytime access to various users of their Sage 50 accounting data. Likely users include:

Owners of Small Businesses and their staff
Sage Consultants who host and/or support Sage 50-Canadian Edition software
CPA and accounting firms who host and/or support Sage 50-Canadian Edition software
Click here to go to our website to subscribe or review the benefits and features of ConnectBooks. This link provides access to both ConnectBooks for Sage 50-Canadian Edition and Sage 50-US Edition.
About IntelleApps, LLC:
ConnectBooks for Sage 50-Canadian Edition and Sage 50-US Edition (more than 300 subscribers in 10 months) are products of IntelleApps, LLC. IntelleApps is a fast growing company with an exclusive focus on developing state-of-art mobile apps for the Apple iOS and Google Android platforms.
IntelleApps is located in Chantilly, VA, USA and is a Sage Development Partner. Sage Corporation is the Creator and Owner of the Sage 50-Canadian Edition and Sage 50-US Edition accounting software products.