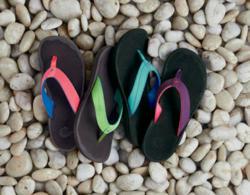 The collection is best described by flexibility, flair and femininity, featuring amazing styles and bold colors that will definitely match the mood and personality of every woman out there
Clinton Township, MI (PRWEB) February 06, 2013
While pining for comfy and cozy boots to wear all winter long, women are already looking for lighter shoes to go with their spring mood, and comfort shoe provider Orthotic Shop makes sure the new Cobb Hill exciting spring offerings are added to their wishlist. The shoe seller has recently unveiled the new Cobb Hill women's spring collection for 2013, featuring bold colors, pastels and neons, stylish designs and floral accents ranging from casual to dress.
"The Cobb Hill women's spring collection has just arrived, and we're thrilled because it's better than ever", said Marketing Manager for The Orthotic Shop. "The collection is best described by flexibility, flair and femininity, featuring amazing styles and bold colors that will definitely match the mood and personality of every woman out there". Some items in the collection reinterprets classic colors and designs, while also introducing models that accurately reflect today's trends.
Made from superior, pure materials and featuring outstanding designs, Cobb Hill shoes are designed with high comfort in mind. All footwear feature removable foot beds, outstanding cushioning and high quality insoles that ensure all day comfort. The subtle twists on texture, color and design, as well as the fit and style of Cobb Hill sandals, flats and ankle boots are preferred by female shoppers who appreciate shoes that have both style and comfort.
The Orthotic Shop is a well-established comfort shoe provider that has been providing custom-made orthotics since 2005, carrying only the highest quality shoes and accessories that provide superior comfort and support. Specially addressing individuals seeking relief from arthritis, hammertoes, corns& calluses or heel pain, The Orthotic Shop provides a wide range of comfort shoes, orthotic sandals and supportive slippers in a variety of colors, styles and designs, to fit the budget and preferences of all customers. Some of the most popular models sold by the shop include the Olukai sandals and Olukai flip flops, Orthaheel slippers, CAT workboots and many more.
For more information on the new spring collection available at The Orthotic Shop, please visit http://www.orthoticshop.com/
About The Orthotic Shop
The Orthotic Shop is a renowned comfort shoe provider dedicated to providing customers with superior comfort and relief for the most well known foot conditions, including bunions, hammertoes, drop foot, heel pain and neuroma. Some of the top quality brands carried by The Orthotic Shop include Olukai, OrthoFeet, Dr.'s Remedy, CAT Footwear, Clogs and many others, with designs, styles and prices to fit anyone's preferences and budget.
Contact Information
Orthotic Shop
Clinton Township
MI – 48038
United States
Phone Number: 800-309-0412