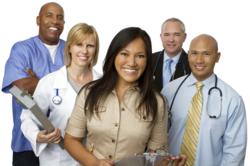 Helping Physicians Find Great Careers Since 1990!
Fairfield, IA (PRWEB) February 07, 2013
With 116 million Americans—nearly a third of the population—currently suffering from chronic pain, it's no surprise that physician job boards like PhysEmp.com are seeing increasing numbers of qualified physicians using the site and applying to pain management jobs.
"In the past three months, we've seen a significant increase in the number of physicians seeking positions in pain management," said Robert Truog, CEO of PhysEmp.com. "Eight million Americans are using pharmaceuticals to treat chronic pain today, and Americans spend about $600 billion on pain management; so it's not all that surprising to see an uptick in physicians who can effectively address these disorders."
From infant surgery to epidurals and new internal medicine treatments, pharmaceutical advances have made both immediate and chronic pain easier to mask. This might be a mixed blessing, says anesthesiologist Ronald W. Dworkin in an article published in the most recent edition of Policy Review.
"In the past," says Dworkin, "emergency room patients presenting with abdominal pain had to be first evaluated before being treated with narcotics, out of concern that narcotics would mask the pain symptom needed to make the diagnosis—for example, in appendicitis. Today, patients in pain often demand narcotics immediately, and regulations compel emergency room staff to prescribe them, sometimes interfering with the surgeon's exam."
In his article, Dworkin refers to "the force of a profound and irreversible cultural change… a growing popular resentment toward chronic pain." And as medical advances in the controversial field of pain management continue to evolve, PhysEmp.com will continue connecting recruiters and hospitals with qualified pain management physicians.
"At PhysEmp, our mission is to assist hospitals and recruiters in their search for the most qualified physicians for their team," says Truog. "More and more pain management jobs are being posted on our site, so we're doing our part to drive qualified traffic to these listings and help facilities to find their ideal candidates."
Physicians Employment has been connecting recruiters and employers with outstanding physicians in all specialties since 1990. The company started out as a popular magazine in 1990 and moved online in 1994. Today, PhysEmp.com ranks more consistently #1 in Google for relevant physician job search terms than any other job board site. The company prides itself on fast, easy physician job search; streamlined usability; and its friendly, experienced customer service team.
PhysEmp.com offers a wide range of services to assist physicians in searching for employment, including the ability to apply to an unlimited number of positions for free and access the contact information of interested recruiters. Physicians can also sign up for job listing updates in selected specialties and send their CVs directly to recruiters who have posted positions. Both locum tenens and permanent positions are available.
To learn more about pain management jobs, surgery jobs, internal medicine jobs, emergency medicine jobs, and other specialties at Physicians Employment, call 800-267-6115.