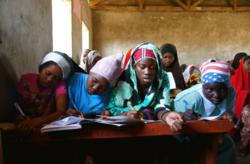 In the refugee camp we have many brilliant children. We must not stifle the talent of children who have dreams.
Peterstown, W.V. (PRWEB) February 07, 2013
Scottie's Place, a West Virginia-based nonprofit organization for homeless and disadvantaged children, is expanding its mission by introducing programs for refugee girls from the global community, beginning with camps in Botswana, Kenya, and Rwanda.
By combining wilderness adventure with education and intensive mentoring, Scottie's Place empowers vulnerable children. Programs assist children and youth to overcome trauma, develop life skills, and prepare for a positive future.
Now the Scottie's Place Vulnerable Scholars Program (VSP) is collaborating with the Office of the United Nations High Commissioner for Refugees (UNHCR) to bring high-impact education to girls trapped in refugee camps in Africa.
"In the refugee camp we have many brilliant children," says UNHCR Botswana Country Representative Lynn Ngugi. "We must not stifle the talent of children who have dreams."
Education Against All Odds
UNHCR estimates that 3.5 million people worldwide live within the confines of refugee camps. Of these, 80% are women and children, most of whom have been restricted to the camps for years. Education offers the greatest hope for refugee youth – and for preparing refugee communities for successful return to their countries.
Scottie's Place is now partnering with UNHCR and education-based organizations to bring VSP to the Dukwi refugee camp in Botswana, the Kakuma refugee camp in Kenya, and the Kiziba refugee camp in Rwanda.
In the definitive words of Etress, a student in the Dukwi refugee camp, "Education is life for a refugee." Yet shortages of resources waylay even the most promising students. Graduation rates, especially for girls, are among the lowest in the world.
The Promise of Refugee Girls
The goal of the Vulnerable Scholars Program is to promote the next generation of women leaders in war-affected populations by providing individualized support and mentoring for high-achieving girls. Modeled after college preparatory programs in the U.S., VSP will provide academic and leadership training in preparation for higher education, coupled with long-term career guidance and strategic placement assistance from an international network of professionals.
Matt Vincent, co-director of VSP explains, "The world needs women and girls right now. In all sectors – business, government, health and education – women are under-represented in positions of leadership, at great loss to the planet. This is even more pronounced in fragile populations that are at risk of continued or renewed violence. This is something we must change."
With today's expanding conflicts, increasing numbers of individuals and families are forced to flee their homes for the relative protection of a camp. The reality is that short-term refuge often evolves into decades of encampment and a widespread struggle for survival. Children are born and raised in the camps, their futures threatened by extreme poverty, ongoing conflict, and a tangle of laws that confine them by the thousands within camp borders.
How To Build Lasting Peace
By developing the talents of high-potential girls from refugee populations, VSP will ensure that, as women, they have the skills and support to play a leading role in ending displacement and participating in the reconstruction and peace building of their communities.
"We should be able to tap the talent of children in refugee camps," Ngugi says." We should be able to nurture it, and we should be able to mobilize world resources to help. Then we will be building responsible generations that can return home and make a positive impact. Having had first hand experience of the consequences of war, these will be people who will do everything to work for and enhance peace."
About Scottie's Place
Scottie's Place was founded by the husband-wife team of Paul Winter and Jo-El Wadsworth, as a special-needs camp for children affected by homelessness. By combining the therapeutic concepts of special-needs programs with wilderness adventure, Scottie's Place helps children regain control of their lives. Since 1999, Scottie's Place has served over five hundred children from homeless shelters, domestic violence shelters and disadvantaged families, providing academic and challenge-based programs for children from five states and Washington, D.C. In 2012, with assistance from UNHCR in Botswana, Kenya, and Rwanda, Winter and colleague Matthew Vincent conducted an educational needs assessment across five refugee camps, laying the groundwork for the Vulnerable Scholars Program.
To find out more, please visit http://www.scottiesplace.org.