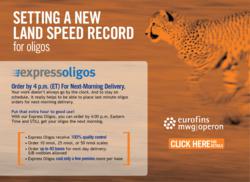 "We provide a clear research advantage since we are the only manufacturer that does full QC on overnight oligos, including Mass-Spec, before shipment. All of our oligos are produced under ISO 9001/13485 specifications."
(PRWEB) February 06, 2013
Expanding on the mission to deliver ISO-quality research products and services 'faster than ever,' Eurofins MWG Operon announces their entry into the overnight oligonucleotide market. The new Express Oligo service can be ordered as late as 4:00 p.m. ET for delivery by 10:30 the next morning. As research projects often require oligo synthesis based on the latest experimental results, customers throughout the US can rely on Eurofins MWG Operon to accept orders an hour later than other oligo providers.
"With this new and very inexpensive service we further strengthen our position to be the fastest DNA Company in the US. We currently offer overnight DNA sequencing for all US locations and now the fastest oligo service in the industry for the US," stated Martin Kunz, CEO of Eurofins MWG Operon Inc. "The new Express Oligo service benefits the research of any institution or company pursuing development in fast cycles, as we now offer primer synthesis and DNA sequencing - both in less than 24 hours and faster than any competitor."
"Process improvements and optimized logistics make faster delivery possible and also ensure Express Oligos undergo the same ISO-certified quality tests as our standard oligos." stated Dr. Philipp Wenter, VP Manufacturing of Eurofins MWG Operon Inc. "We provide a clear research advantage since we are the only manufacturer that does full QC on overnight oligos, including Mass-Spec, before shipment. All of our oligos are produced under ISO 9001/13485 specifications."
Visit http://www.operon.com/express-oligo for more information about overnight oligo synthesis services.
About Eurofins MWG Operon
Eurofins MWG Operon, a member of the Eurofins Group with major offices and production facilities in the United States, Europe, and Asia, is an international provider of DNA sequencing services, DNA synthesis products, and bioinformatics services for academic and industrial research. The company's strengths are its strong customer orientation, fast service, and high quality. For additional information, please visit our website at http://www.operon.com.