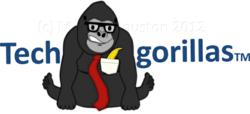 Techgorillas.com has worked really hard to create a great user experience for IT Managers and Human Resources to find great IT talent
Hollidaysburg, PA (PRWEB) February 06, 2013
Techgorillas.com was built with Talent Management, Human Resources and IT Managers in mind to help them find the best IT talent in the market. IT Managers can post their IT Jobs and Search the resume database.
The company goal is to find IT professionals to get the very best talent in the market.
This IT specific jobboard is for IT Managers looking to hire great IT candidates. Employers can post IT positions and search the resume database. Employers and IT Managers can post IT positions for 1 week, 2 weeks or 30 or 60 days depending on the company needs. Fortune 500 companies, medium sized, and small employers have several Key IT positions to fill and Techgorillas.com is a perfect solution.
Techgorillas.com is easy to use, fast, very reliable and very powerful. As an IT Specific Jobboard employers can search the resume database. Each candidate in the database has at least a BS degree in Computer Science and Computer Engineers with a BS degree in computer science, IT, and Information Systems only.
With the need for cutting edge IT skills in today's market it has become very difficult to find the candidates with the skill sets needed to move your company forward. Try posting some of your most important and toughest IT positions at http://www.techgorillas.com