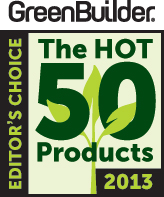 Icynene Classic Max™ recognized by Green Builder Media is testimony to our ability to listen to what the industry is demanding and our ability to develop high-quality, innovative products that meet this demand. - Betsy Cosper, VP Marketing
Mississauga, ON (PRWEB) February 06, 2013
Spray foam insulation product, Icynene Classic Max™ from leading manufacturer, Icynene, has been recognized as a Hot 50 Product by Ohio-based publisher Green Builder Media. The recognition by the Green Builder Media editorial team identifies Icynene Classic Max™ as a product with a significant impact on sustainable construction.
The annual Hot 50 Products list is a collection of advanced products that meet a range of eco-criteria including sustainability, eco-friendliness and durability.
"There has been a tremendous amount of interest regarding Icynene Classic Max™ across the United States amongst architects, builders as well as industry media thanks to its one-and-done application properties. Having Icynene Classic Max™ recognized by Green Builder Media is testimony to our ability to listen to what the industry is demanding and our ability to develop high-quality, innovative products that meet this demand," said Icynene VP Marketing, Betsy Cosper.
"It is an honor to be recognized by Green Builder Media for our green innovation and commitment to the spray foam industry. Our drive to remain market leader and provide continued support to the building and construction industry motivates us to introduce products as such Classic Max™ into the marketplace," said Mrs. Cosper.
# #
About Icynene
Established in 1986, Icynene helps to build energy efficient residential and commercial structures in over 31 countries worldwide. Our portfolio of industry leading light density open cell and medium density closed cell SPF solutions are both insulation and air barrier materials for improved indoor air quality and reduced energy costs making Icynene the smart choice for builders, architects, building owners, and homeowners.
For more information, contact:
Icynene Marketing Communications
media [at] icynene [dot] com 800-758-7325, x215
http://www.icynene.com