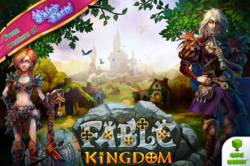 Welcome to the world of "Fable Kingdom HD" where you can build your own city, help legendary heroes with their quests, discover the mysteries of long forgotten times and defeat the evil forces with the power of love and friendship!
(PRWEB) February 21, 2013
Game Garden, the company that created the popular farm simulator Fairy Farm, has announced the release of Fable Kingdom HD, a fantasy city builder game available worldwide both on iOS and Android. The player will visit magic world and perform the exciting task of reviving a powerful kingdom that fell prey to dark magic many centuries ago. Fable Kingdom HD provides a substantial expansion of the Fairy Farm universe, offering a dynamic storyline, a multitude of diverse quests, new unique heroes and a possibility to build a kingdom.
The Fable Kingdom storyline was inspired by classic twentieth-century fantasy books. On the eve of their wedding, a prince and princess were put under the spell of an evil sorceress and turned into statues for ages. However, a good fairy, who is practicing her magical skills as part of an assignment from the School of Magic, accidentally releases the prince from the spell, bringing him back to life. Now he has to get back his love and revive the fallen kingdom. Here begins an adventure where the player will get to overcome many hardships, help the main characters find their love, destroy the evil and unravel the riddles of the past.
Fable Kingdom HD is a classic city builder, therefore one of the player's primary missions is to build the city and look after local inhabitants. The player can choose from several dozen producing and entertainment buildings, each having its own fanciful architecture and unique style.
The main fortress can be improved and converted into a luxurious medieval castle. Every building can be bought for resources gathered by the townsfolk. The player can get rewards, achievements or collectable items for each successfully completed quest.
A vast and truly living world with mysterious strangers, witchcraft and cryptic buildings will help enjoy the adventure to the full. The visuals, adapted to Retina and Full HD screens, provide vivid and colorful imagery, and the smooth animation makes it look even more realistic.
Fable Kingdom HD is free to download from the Apple AppStore and Google Play Market now. No internet is needed to play this game (except for the initial launch and further updating).
Fable Kingdom HD is now available on iOS: https://itunes.apple.com/us/app/fable-kingdom-hd/id583922364
Compatible with iPhone 4, iPhone 4S, iPhone 5, iPod touch (5th generation) and iPad 2 and higher. Requires iOS 5.0 or later. This app is optimized for iPhone 5.
Fable Kingdom HD is compatible with Android smartphones and tablets (Android 2.2 or later): https://play.google.com/store/apps/details?id=com.fablekingdom&hl=en
Video game trailer: https://www.youtube.com/watch?v=efQYagowyjI
For more information please visit the official web-site: http://www.fablekingdom.com/
Facebook community: https://www.facebook.com/FableKingdom
About Game Garden:
Game Garden creates mobile and social games in dozens of languages, enjoyed by more than 10 million players around the world. Game Garden brings together dozens of professionals in their fields who have launched several major projects, full of enthusiasm to create new bestsellers.The main principle is pouring hearts into everything what's done, without limiting with formalities.
Contacts:
Ekaterina Murmylo
Game Garden
PR-manager
E-mail: ekaterina(dot)mur(at)game-garden(dot)com
Skype name: Erita06