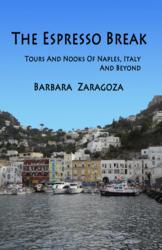 It's impossible to talk about life in Naples without mentioning soccer. The fans are rowdy, the Stadio San Paolo is old, and you can frequently see flairs and firecrackers launched inside the stadium during games.
Chula Vista, CA (PRWEB) February 07, 2013
Despite SSC Napoli's December scandal of having been deducted two points after two players failed to report match fixing, they are in second place within Serie A, the top Italian league. The team continues to play during February, including home games at the San Paolo Stadium, the largest multi-sport facility in Naples.
To find out how to buy tickets, or for those who know little about soccer, the Naples travel guide, The Espresso Break: Tours and Nooks of Naples, Italy and Beyond tells you how the game is played, the best way to purchase tickets and how to get to the stadium. For visitors to Naples, the book also includes the top places to stay, eat and shop.
Written for independent travelers who would prefer to explore the sights on their own, the book includes tours of the city and off-the-beaten-track nooks.
"Although Naples is known as the oldest city in the western world, I wanted to include the city's modern side, from artistic subway stations to soccer games," says Zaragoza who combines history, archeology, geology and myth to create many unique tours that range from spelunking and odious women to a walk through the history of espresso. This is where you'll learn how to visit the workshop of architect and modern sculpture artist, Riccardo Dalisi as well as watch Mauro S. create his internationally renown gloves by hand alongside his fellow craftsmen.
The travel guide doesn't stop at soccer and modern artists. After a soccer game, you can enjoy self-guided tours of Pompeii, Herculaneum and Roman villas. There are insider tips like getting a key from a custodian in Capua to see an underground Mithras sanctuary as well as how to find a nice Lido to enjoy the beaches.
New York Magazine mentioned Zaragoza's blog, The Espresso Break, as the 'go to' website for finding hidden gems. Kirkus Reviews said, "In this readable, entertaining information guide for tourists, Zaragoza takes readers from the heights of Mount Vesuvius to the ruins of Pompeii and beyond. Part Atlas, part history lesson, part epicurean review, this comprehensive handbook to Naples is without peer."
About
Barbara Zaragoza is a freelance writer who spent three years blogging about Naples, Italy. Sure she enjoys ancient history, but she also writes about modern day fun from soccer to finding the best pizza. For more about the author, the book, and Naples travel, go to Naples (Napoli) Travel Information Guide.