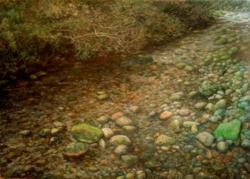 Painting Ireland - Avonbeg, Co. Wicklow
County Wicklow, Ireland (PRWEB) February 09, 2013
Roper's oil painting that sold at auction is called "Avonbeg Low River" and measures 183 x 137 cm. The other two pictures by Irish painters that were auctioned were a portrait of Daniel Day-Lewis as Lincoln, and also a portrait of the film's director, Stephen Spielberg.
Hollywood star Daniel Day-Lewis lives in County Wicklow and is a patron of the Wicklow Hospice Foundation. The European premiere of the movie in Dublin's Savoy Cinema was followed by a banquet in Burlington Hotel attended by around 990 guests. Props from the movie by Stephen Spielberg on Lincoln, along with Roper's painting, were auctioned to raise money for the Wicklow Hospice Foundation.
Roper specialises in painting on big canvasses as they allow him to accurately reflect the beauty of the landscapes that he recreates. "Avonbeg Low River" was chosen by the organizer of the auction out of a landscape series collection called "Painting Ireland - Avonbeg, County Wicklow", which is displayed and available to view in the Barista Café and Wine Bar until March 2013.
David Roper was born in Dublin, but the family moved to Wicklow 30 years ago. He now lives and works near Rathdrum in County Wicklow. Roper travelled and lived in different countries in Europe and Asia, but came back to Ireland, where the landscapes inspired him to paint local rivers and woods.
Roper said: "My parents have supported Wicklow Hospice Foundation and now I also was able to contribute. I am delighted that my painting has gone to such a worthy cause."
Find out more at http://www.davidroperpaintings.com.