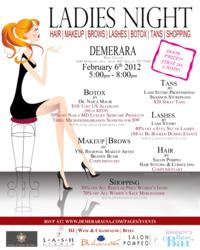 Dallas, TX (PRWEB) February 05, 2013
In lieu of Valentine's Day, DEMERARA is hosting LADIES NIGHT. A one-stop shop for beauty needs at great deals from Lady-Owned Businesses such as Naila Malik, MD, Lash Studio, & Salon Pompeo. Whether touching up for the big day, or just in need of some much deserved pampering, DEMERARA hopes to see many lovely faces for a glass of champagne at the very least.
There will be several pocket-friendly promotions and offers by local women-owned businesses. At the event DEMERARA will be offering discounts on all women's apparel, which includes 30% off all women's regular price merchandise and 70% off all women's sale items.
Dr. Naila Malik will be administering Botox for $10 a unit and will be offering three microdermabrasion sessions for $99. She will also be previewing her newly launched skincare line, Naila MD Luxury Skincare, at 50% off of suggested retail. (http://www.nailamalikmdskin.com)
Owner of Lash Studio and 2012 Lash Artist of the Year, Shannon Sturdivant, will be offering $20 spray tans, as well as 40% off a full set of lashes, which must be booked during the event to receive the discount. (http://www.lashstudiotx.com)
Yves St. Laurent regional makeup artist, Brady Blair, will be offering complimentary makeup consultations. Mrs. Blair will also be giving eyebrow consultations, including shaping and defining.
There will be a professional hair stylist in attendance from Salon Pompeo providing complimentary hair styling and consulting. (http://www.salonpompeo.com)
Accompanied by great music with an in-store dj, complimentary wine and champagne will be served throughout the evening along with bites from local Mediterranean Hot-Spot, Baboush. (http://www.baboushdallas.com)