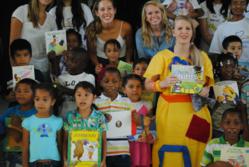 "Most of our participants come from low income households and do not have access to books at home."
-Yolanda Bynum, Y Readers
Charlotte, NC (PRWEB) February 06, 2013
On February 12, dozens of local elementary students will receive something better than Valentines or candy. Thanks to a donation from Promising Pages, the YMCA of Greater Charlotte will begin distributing thousands of free books to children at its Share the Love of Reading event at the Simmons YMCA.
Promising Pages, a local nonprofit with a mission to provide books to kids in need, estimates that more than 60,000 children in Greater Charlotte are growing up without books at home. In January, Promising Pages delivered approximately 20,000 books to the Y for children in its Y Readers program; books are now stacked floor to ceiling in YMCA offices.
"Y Readers is the Y's literacy program for kindergarten through third grade students who read below grade level," explains Y Readers Director Yolanda Bynum. "Most of our participants come from low income households and do not have access to books at home. Reading is a critical skill for academic and life success."
Started in Charlotte in 1999, Y Readers became a national model replicated in 5 other states in 2012. Locally, Y Readers serves roughly 700 children annually. The Share the Love of Reading event serves as a kickoff to the distribution of books to Y Readers students as well as children in the Y's Afterschool and other programs that serve children and families in need. More than 1,000 families will receive books over the next few months.
"The Share the Love of Reading event is a magic book party," says Kristina Cruise, Promising Pages executive director. Mascot Erma the Bookworma will present 60 children with a gift-wrapped book and inspire the young readers with fun activities. Y Readers volunteers and teachers will help the students read their new book before taking it home.
"These books will help foster a love of reading and give families more opportunities to read together at home," says Cruise. "We are thrilled to partner with the Y to get books in the hands of kids that need them."
Share the Love of Reading Event
Date: February 12
Time: 4:15 – 5:00 PM
Location: Simmons YMCA
6824 Democracy Drive
Charlotte, NC 28212
(704) 716-6600
Members of the media are welcome to attend. Opportunities are available to interview children, teachers and organization leaders.
About the YMCA of Greater Charlotte
The Y is one of the nation's leading nonprofits strengthening communities through youth development, healthy living and social responsibility. The YMCA of Greater Charlotte, comprised of 19 membership locations and two resident camps, engages approximately 260,000 men, women and children – regardless of age, income or background – to nurture the potential of children and teens, improve the nation's health and well-being, and provide opportunities to give back and support neighbors. Deeply rooted in the community for 138 years, the YMCA of Greater Charlotte has the long-standing relationships and physical presence not just to promise, but to deliver, lasting personal and social change. http://www.ymcacharlotte.org