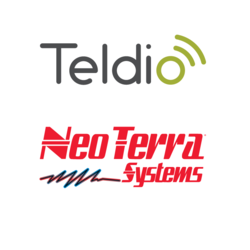 This agreement allows us to deliver a comprehensive portfolio of applications to address end user needs by bringing together best in breed applications from both NeoTerra and Teldio
Ottawa and Orangeville, Ontario Canada (PRWEB) February 07, 2013
Teldio Corporation, a leading solutions provider of telecommunications integration for Digital Mobile Radios (DMR), and NeoTerra, a leading provider of GPS and text messaging applications for two-way radios, announced today a multi-year distribution agreement designed to mutually benefit both companies by better serving their channel partners and end customers in North America. The agreement will see Teldio become an authorised distributor of NeoTerra's neoConneX, neoNytro and zapMail products. Further collaboration in the areas of Marketing, Support, Research and Development are also planned.
"The arrangement between our two companies will allow NeoTerra to broaden its distribution channel in North America via the established Teldio US based sales team" said Ewan Crawford, President & CTO, NeoTerra Systems.
Starting February 1, 2013, Teldio will begin selling the newly supported NeoTerra applications providing MOTOTRBO dealers and end users an alternate point of contact for a robust portfolio of vital radio applications in enterprise settings.
"One of our ongoing objectives has been to provide channel partners and end customers a single point of contact for their radio applications and solutions, today we are one step closer to achieving this. Our partnership agreement brings us closer our goal of simplifying the process of integrating applications to digital two-way radios networks" said Teldio CEO Carl Carruthers.
Greater Focus on Vertical Markets
The Teldio and NeoTerra partnership promises to deliver value driven solutions customized for utilities, natural resources, hospitality, manufacturing, transportation, healthcare, education, and other sectors. Both companies individually have a proven track record of success in delivering vertically focused solutions. Collaboration on product roadmap activity between Teldio and NeoTerra will focus on seamlessly integrating the existing product lines to provide a single unified solution for end users.
"Our product lines are complimentary and our customers have voiced their satisfaction with the complete solutions we provide together. This agreement allows us to deliver a comprehensive portfolio of applications to address end user needs by bringing together best in breed applications from both NeoTerra and Teldio" stated Mr. Carruthers.
"This partnership agreement taps the complementary strengths of two industry veterans and I'm confident that this agreement will provide greater value to partners and end user customers in two way radio application market" said Mr. Crawford.
About Teldio Corporation
Teldio is a premier Motorola Solutions application developer for its digital MOTOTRBO radios. Teldio applications ensure greater employee safety and security and increase worker productivity, and have been tried and tested in a several vertical environments. Its portfolio of applications includes cost effective radio to telephony communication, radio to radio recording, alarm management and notification, lone worker monitoring, man down notifier, and indoor positioning solutions.
For more information, visit http://www.teldio.com.
About NeoTerra
Founded in 2003, NeoTerra has developed a range of fleet management solutions for text messaging, GPS vehicle location (AVL) and dispatch management. They strive to provide premium quality solutions for two-way radios, developing feature rich applications that maintain simplicity of use. Teldio is now a North American distribution partner for NeoTerra's product.
For more information, visit http://www.neoterra.ca.