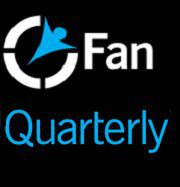 We're a magazine for fans written by fans. The contests are just a natural extension of the greater value we offer our readers.
New York City, NY (PRWEB) February 06, 2013
Fan Quarterly magazine is launching two exciting contests for the month of February to show love and appreciation for their 15,000+ readers.
The first prize is a brand new compilation of Billy Joel love songs, titled "She's Got A Way: Love Songs", which was released by Columbia Records and Legacy Recordings this month. Fans will get 18 songs by Grammy Legend Award winner Billy Joel, including hits like "Just The Way You Are," as well as lesser-known gems like "Travelin' Prayer" from the "Piano Man" single b-side.
To enter this contest, entrants should answer: "What is your favorite Billy Joel love song and why?" Entries should be 150 words or less and sent to Jennn(at)FanQuarterly(dot)Com by Monday, February 11th, 12 pm (EST).
The second prize is a TV t-shirt from T-Shirts.com. Winners can choose from more than 300 television-inspired shirts ranging from classic shows like Full House, Saved By The Bell and Dr. Who, to the most popular shows of today like Sons of Anarchy, Game of Thrones, and The Big Bang Theory.
To enter, fans will need to caption a Bill Cosby photo, which can be found at Fan Quarterly. Entries should be sent to Jennn(at)FanQuarterly(dot)Com by Thursday, February 28th, 12 pm (EST). This contest is only open to residents of the United States.
"We're pleased to be partnering with Legacy Recordings and T-Shirts.com for these great February giveaways," explains Fan Quarterly's Jennn Fusion. "There are a lot of places people can read about their favorite celebrities, but our fans know they can count on us for positive interviews, reliable reviews and insightful articles featuring their opinions. We don't get into the negative gossiping that many sites do. We're a magazine for fans written by fans. The contests are just a natural extension of the greater value we offer our readers."
Fan Quarterly is an entertainment magazine featuring reviews, exclusive interviews, podcasts, celebrity photos, fan fiction, and giveaways. Reviews cover films, books, social media trends, celebrity tweets, and awards shows. Fans regularly write in for their chance to be featured in a "Fantorial" article about topics like Star Trek: The Next Generation, favorite 80s TV shows, or stories about meeting their most beloved celebrity.
Past interviewees include entertainment veterans (Elvira Mistress of the Dark, Entertainment Tonight's Bob Goen, and supermodel Emily Sandberg), to up-and-coming stars (Paula Brancati from "Degrassi" and Steven R. McQueen from "Vampire Diaries"), to today's most popular personalities (Kevin Dillon from "Entourage" and Jackson Rathbone from the "Twilight" movies).
For more information, one may visit http://www.FanQuarterly.Com or stop by the group's Facebook page.
About Fan Quarterly: Fan Quarterly is an online celebrity magazine with a regular readership of 15,000 and growing, with over 300,000 page views a month. Most readers are women ages 18 - 29, and include a mix of US and international fans. Fresh content is posted daily.
# # #