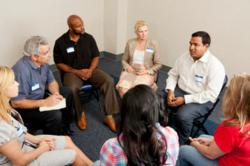 It's so good to know that I really count on your agency to be there for me. Even if I have a question that doesn't relate to a service you provide, you always take the time to connect me with a resource that can.
Washington DC (PRWEB) February 13, 2013
Good Neighbor Community Services was awarded the "Best of the Best" designation for excellence by Follow Media Consulting, Inc. in the category of Therapy Richmond VA. This award signifies the continued commitment and dedication of the areas best in counseling and therapy services.
Good Neighbor Counseling promotes an improved quality of life for persons seeking individual, couples, and/or family therapy. Services are provided by licensed and experienced clinicians who are dedicated to understanding client needs and concerns. Their therapists are committed to partnering with people throughout the therapeutic process in order to assist in achieving a healthy, balanced, and productive life.
Good Neighbor's caring and professional staff is available to work with children, adolescents, and adults on a variety of issues including the following:
addiction, anger management, anxiety, behavioral problems, communication, coping skills, depression, domestic violence, dual-diagnosis, emotional, physical and/or sexual abuse, functioning at work/school, grief/loss, immigrant issues, interpersonal relationships, intimacy, managing transitions, pain management, self-esteem, stress management and trauma, individual therapy, family therapy, couples counseling, children's play therapy, and expressive art therapies for adults, counseling services for military personnel, their families, and loved ones.
Discussing concerns with a trained and compassionate therapist can be a highly beneficial tool in personal growth journey by providing a with a safe, non-judgmental environment in which one will feel heard, understood, and respected. By working collaboratively with a clinician, clients have the potential to resolve life challenges, improve the ability to cope with stress, and receive the support needed to become the healthiest version. Good Neighbor's counseling services are person-centered so one will have the opportunity to play an active role in creating and completing a wellness plan that is personally meaningful and customized to meet specific needs.
For questions or to schedule an appointment, call Good Neighbor Community Services at (804) 520-4600 or visit their website at http://www.goodneighborcommunityservices.com/counseling-richmond/adults/therapy/
About Follow Media Consulting, Inc.
Named one of the best SEO companies by Jonas Marketing, Follow Media Consulting, Inc. is a rapidly growing worldwide firm of SEO, Social Media, and Mobile Marketing Professionals. Follow Media Consulting, Inc. headquarters is located in Richmond, VA. However, our professional team is networked across the world, with regional offices across the United States, in the United Kingdom, Canada, Australia, France, South Africa, the Philippines, and India.