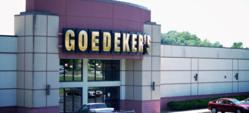 Every message has an impact, and helps us better understand our customer's needs and concerns.
Ballwin, MO (PRWEB) February 06, 2013
Home goods internet retailer Goedeker's has announced updates to customer satisfaction initiatives for 2013. Customer feedback through various channels are brought together to refine existing internal processes and create new processes where needed, all with an aim to increase customer satisfaction.
"We realize that time is one of the most precious resources a person has. We want to help people spend that time where it matters most - with family and loved ones, creating memories to be cherished," says CEO Steve Goedeker. "We can help consumers save time and hassle during the ordering process, and provide energy efficient products that save even more time and money over the life of the appliance."
Today, Goedeker's keeps a team focused on social media channels like Facebook and Twitter, product and company review sites like ResellerRatings, and direct emails from the public. In 2012, Goedeker's launched an email account for Steve Goedeker, and invites customers to email Steve on every page of the site. Says Goedeker, "I read every single email that comes in. In some cases, I respond directly to the customer. In others, I'll forward the message to our Customer Service or Sales team, so that they can reach out and resolve any question or concern. Every message has an impact, and helps us better understand our customer's needs and concerns."
On the company's Facebook at http://www.facebook.com/Goedekers, team members respond to customer feedback. Each message is handled by a member of the customer service team at the Ballwin, MO headquarters. "We keep our customer service team in-house, so that communication with our technical and marketing teams are quick and efficient," said Goedeker.
Most recently, Goedeker's deployed an active visitor survey from Qualaroo.com. The survey appears when a visitor explores the site, and invites feedback. Goedeker's hopes that customers make use of this feature, as customer feedback will drive prioritization of future initiatives.
Goedeker's will continue engaging customers through social media platforms, website feedback, and email in 2013. "We hope that customers find our website useful, informative, and easy to use. If that's not the case, I want to hear about it," says Goedeker.
For more information about the company, visit their website at http://www.goedekers.com/.