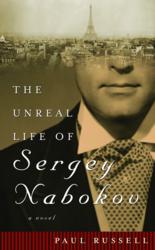 (PRWEB) February 06, 2013
Cleis Press is thrilled to announce its partnership with world-renowned expert Susie Bright, who will be producing a select group of audiobooks for Cleis. The first of these audio books is award-winning The Unreal Life of Sergey Nabokov by Paul Russel. The Unreal Life of Sergey Nabokov is the recipient of Ferro-Grumley Award for LGBT Fiction, making Paul Russel the only author to win it twice. The book also won a silver medal in the Independent Publish Book Awards and another silver medal in Foreword's Book of the Year Awards. It was a finalist for the Lambda Literary Award for gay general fiction. Paul Russel was honored as a featured author at the 2012 Rainbow Book Fair in New York City.
Associate Publisher Brenda Knight said, "It's rare that things come together so easily for a book. But in this case, our award-winning novel was brought to Audible by Susie Bright, who really is the best and the brightest in the industry. The Unreal Life of Sergey Nabokov was named one of the five most important novels of the year by The Wall Street Journal and is in good and caring hands with Susie Bright."
In his novel based on the extraordinary life of the gay brother of Vladimir Nabokov, Paul Russell re-creates the rich and changing world in which Sergey, his family, and friends lived; from wealth and position in prerevolutionary Russia, to the halls of Cambridge University, and the Parisian salon of Gertrude Stein and Alice B. Toklas. But it is the honesty and vulnerability of Sergey, our young gay narrator, that hook the reader: his stuttering childhood in the shadow of his brilliant brother, his opium-fueled evenings with his sometime-lover Cocteau, his troubled love life on the margins of the Ballets Russes and its legendary cast, and his isolation in war torn Berlin where he will ultimately be arrested, sent to a camp, and die in 1945.
Paul Russell is the author of six novels, including Sea of Tranquillity, The Coming Storm (winner of the 2000 Ferro-Grumley Award and finalist for the 2000 Lambda Literary Award) and War Against the Animals (finalist for the 2003 Lambda Literary Award) as well as a work of nonfiction, The Gay 100. His poems, short stories and essays have been widely published. He is a recipient of a National Endowment for the Arts Creative Writing Fellowship. He has taught at Vassar College and the University of Exeter.