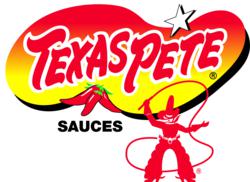 Winston-Salem, NC (PRWEB) February 05, 2013
TW Garner Food Company is further expanding the distribution of the company's Texas Pete® Hot Sauce to Canadian grocery retailers.
Texas Pete will be available in the four regions across Canada including West, Ontario, Quebec and Atlantic. Texas Pete® will be on the shelves of Loblaw nationally, including RCSS / RASS, No Frills, and Maxi banners. Consumers will be able to purchase the 322ML Texas Pete® Original Hot Sauce, and the 162ML Texas Pete® Original Hot Sauce, Garlic Hot Sauce, and Hotter Hot Sauce.
Regionally, Texas Pete 162ML Original hot sauce, garlic hot sauce, and hotter hot sauce will be available at Safeway stores in Western Canada, and Metro stores in both Ontario and Quebec.
TW Garner Food Company initially began distribution in Canada in 2012, with Acosta Sales and Marketing Canada – the Canadian arm of the U.S.-based outsourced sales and marketing agency. Acosta Sales and Marketing Canada serves as broker for the Texas Pete® line of hot sauces and condiments in all provinces.
More information on these products can be found at http://www.texaspete.com.
About TW Garner Food Company
Headquartered in Winston-Salem, North Carolina, TW Garner Food Company is famous for its Texas Pete® Hot Sauce, the number three brand of hot sauce in the United States. Founded in 1929 as a maker of barbecue sauce, the company now sells a full line of hot sauces, wing sauces, honey mustard and seafood cocktail sauce under the Texas Pete® brand. Under the Green Mountain Gringo® brand, the TW Garner Food Company sells Salsa and Tortilla Strips. Products are sold in supermarkets, military commissaries, convenience stores and restaurants throughout the United States. In 2010, Green Mountain Gringo® Salsa was named best overall salsa by Epicurious magazine, among 20 retail salsas that were tested.