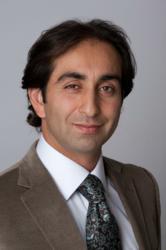 It's very easy for a problem with an individuals thyroid to go unnoticed for quite some time. Because the symptoms presented can be very similar to other disorders.
Beverly Hills, CA (PRWEB) February 06, 2013
With national thyroid awareness month just behind us, one Los Angeles head and neck surgeon proceeds to encourage patients to take control of their thyroid health in the New Year. Expert thyroid surgeon Babak Larian, MD, FACS, and director of the CENTER for Advanced Head & Neck Surgery believes that continued thyroid education will improve patient understanding of the crucial bodily gland.
"Because January is the first month in the New Year, it's a very common time for individuals to make health resolutions that have to do with diet and exercise. A lot of people don't realize how important optimal thyroid health is, which is why I'm encouraging my patients to be aware of their thyroid health not only in January, but year round," said expert thyroid surgeon Dr. Larian. "As a head and neck surgeon, I always take the time to explain the significance of an ideal functioning thyroid."
The thyroid is located at the base of the neck and is a small, butterfly-shaped gland responsible for the production of thyroid hormones that work to monitor metabolism, growth, and heart rate. When too much or too little hormone is released, a person often experiences impairing symptoms, including weight loss or gain, sensitivity to cold, insomnia, shaking, pain or stiffness in the muscles, and an irregular heartbeat.
"It's very easy for a problem with an individuals thyroid to go unnoticed for quite some time. Because the symptoms presented can be very similar to other disorders, it's very important to visit an expert head and neck surgeon to undergo proper diagnostic testing," said Dr. Larian.
Each year, more than 50,000 Americans are diagnosed with a thyroid related condition. Two of the most commonly diagnosed thyroid disorders are known as hypothyroidism, a condition in which not enough hormone is released, and hyperthyroidism, a condition in which too much thyroid hormone is made available. In most cases, both disorders are often best handled by an endocrinologist and only require the assistance of a thyroid specialist like Dr. Larian when a nodule, tumor or cancer is present.
"In many cases, thyroid tumors are so small that they go unnoticed until being found during a routine examination. Because of this, it's a great idea to learn your family history and risk factors for developing the disorder, as this can help in early diagnosis and successful treatment," said Dr. Larian.
To do your part and participate in thyroid awareness, Dr. Larian encourages everyone to educate themselves about the thyroid gland and determine whether or not a family history of the condition is present.
"Hyperthyroidism, hypothyroidism, and thyroid cancer are all very treatable and beatable conditions. If people continue to understand the function of the thyroid and listen to their bodies, I'm confident that myself and my team of specialists can continue to bring successful outcomes to patients," said Dr. Larian.
Dr. Larian is a board certified head and neck surgeon with an extensive training and knowledge in the treatment and management of various thyroid disorders through advanced minimally invasive surgical procedures. Upon receiving his medical degree from the well-respected University of California—Irvine, Dr. Larian completed a six-year residency program in otolaryngology and head and neck surgery at the University of California Los Angeles. Dr. Larian currently holds the prestigious title of Chief of Head & Neck Surgery at the highly regarded Cedars-Sinai Hospital in Los Angeles, a position which he holds until the end of 2013.
For additional information regarding thyroid expert Dr. Larian or to schedule an appointment, please call (310) 461-03100 or visit http://www.larianmd.com.