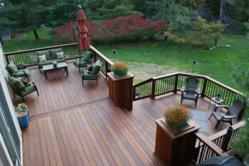 "It's an honor we basically dominated the wood deck portion of the competition," CEO and President Sean McAleer said
Sparta, NJ (PRWEB) February 06, 2013
DeckRemodelers.com is pleased to announce a third straight year of victories in a national level deck building competition. Pitted against top deck building firms from across the nation, DeckRemodelers.com received first, second, and third place prizes in various categories.
The event, the National Deck Competition held in Baltimore, was a part of the DeckExpo and Remodeling conference. It is touted to showcase the best deck building, from planning to craftsmanship, in all of the United States and is sponsored by N.A.D.R.A., the North American Deck and Railing Association.
"It's an honor we basically dominated the wood deck portion of the competition," CEO and President Sean McAleer said. "Everyone on our team worked hard and and we are proud of the accomplishment ."
DeckRemodelers.com was awarded first prize for National Best, second place for a deck built in Montville, and a third place prize for Best Unique feature.
"There's more to deck building than most people think," McAleer said. "Some people assume you can just go out and start building. But the truth is, a high quality deck takes careful consideration and planning. It combines beauty, functionality, and practicality. And it is made to blend with the home it is built onto as well as its outdoor surrounding. That's the type of deck that wins competitions."
To receive an interview from DeckRemodelers.com, or to get more information on their deck building services, visit http://www.deckremodelers.com.
About Deck Remodeler.com
DeckRemodeler.com is a deck design and build company based in Sparta, New Jersey. They specialize in building decks and outdoor living spaces including new builds, remodeling existing decks, and are experts in deck repair and maintenance. Their work has been featured in multiple national publications, and they consistently win various deck design and build competitions on the state and national levels. CEO and President Sean McAleer has also received the Contractor of the Year Award and holds a membership with N.A.D.R.A. To inquire about their deck building services, visit http://www.deckremodelers.com.
# # #