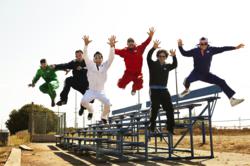 Santa Fe, NM (PRWEB) February 06, 2013
Santa Fe University of Art and Design (SFUAD) announced today that Los Angeles-based Latin fusion rock band Ozomatli will perform on the university's Quad April 27 as part of its Artists for Positive Social Change series. The 2012-2013 academic year focuses on "Art and Political Activism," with the university hosting events, lectures and performances from relevant artists who provide in-depth exploration of the theme. Tickets will be required for the Ozomatli concert, which is free and open to both students and the greater Santa Fe community. Details will be announced at a later date on the SFUAD website.
Ozomatli has spent 18 years working diligently to spread its message of peace, communication and understanding through their music. The band is a recipient of the Local Heroes Award by Los Angeles PBS station KCET-TV, recognizing their longstanding accomplishments and community service throughout Southern California. The City of Los Angeles has also declared April 23rd "Ozomatli Day" in recognition of the band's service to the city. They've also been recognized as global activists through the National Council of LA Raza's Humanitarian Award, and have performed twice for President Barack Obama.
"Ozomatli originally came together to play at an L.A. labor protest in the 90's, and their band has since been internationally recognized for their outspoken activist role," said David Scheinbaum, director of photography and artist in residence who leads SFUAD's Artists for Positive Social Change. "I'm excited to have been able to invite a group to campus that not only embodies the level of excellence both in musicianship but also in their commitment to the ethics and values we're trying to present to our students. With their great following here in New Mexico, it's an honor to host them on the SFUAD campus and also be able to invite the community for free."
In conjunction with Ozomatli's visit to the SFUAD campus, university artist in residence Brian Hardgroove will mentor a new student band formed specifically to open for Ozomatli during their April concert. Auditions are currently taking place. Hardgroove was also deeply involved in last year's Artists for Positive Social Change series, which centered around hip-hop as a medium for cultural change. During the initiative's culminating week of events, Hardgroove gave a lecture to students about the social responsibilities of artists and mentored the members of Inter-City Connection, the student band that was formed to open for Public Enemy. Inter-City Connection will again perform during this year's concert. Steven Paxton, chair of SFUAD's Contemporary Music Department, cites this project as "a great opportunity for students in the music department to collaborate with talented musicians from across the university, and to be mentored by an experienced music professional such as Brian Hardgroove."
The members of Ozomatli are no strangers to New Mexico, having performed in the state several times. "Ozomatli performances have been some of the most exciting and energized concerts I've ever attended personally," added Scheinbaum.
"Just being who we are and just doing what we're doing with music at this time is very political," Ozomatli bassist Wil-Dog Abers has said. "The youth see us up there and recognize themselves. So in a playful, party-type of way, I think it's real easy for this band to get dangerous. We are starting to realize just how big of a voice we actually have as a band and how important it is for us to use it."
For more information about Ozomatli visit their website at http://ozomatli.com/ or check out the Ozomatli YouTube channel.
This year's Artists for Positive Social Change series also consists of the Al-Mutanabbi Street Starts Here exhibit; a campus mural painting, lecture and Q&A by artist and graphic designer Shepard Fairey; performance and campus presentations by Vancouver singer/songwriter, Kate Reid; among other events.
About Ozomatli:
In their 18 years together as a band, celebrated Los Angeles culture-mashers Ozomatli have gone from being hometown heroes to being named U.S. State Department Cultural Ambassadors.
Ozomatli has always juggled two key identities. They are the voice of their city and they are citizens of the world. Their music — a notorious urban-Latino-and-beyond collision of hip hop and salsa, dancehall and cumbia, samba and funk, merengue and comparsa, East LA R&B and New Orleans second line, Jamaican ragga and Indian raga— has long followed a key mantra: it will take you around the world by taking you around L.A.
Originally formed to play at a Los Angeles labor protest over a decade ago, Ozomatli spent some of their early days participating in everything from earthquake prep "hip hop ghetto plays" at inner-city elementary schools to community activist events, protests, and city fundraisers. Ever since, they have been synonymous with their city: their music has been taken up by both the Los Angeles Dodgers and Los Angeles Clippers, they recorded the street-view travelogue "City of Angels" as a new urban anthem, and they were featured as part of the prominent L.A. figures imaging campaign "We Are 4 L.A." on NBC, and have the distinction of headlining the Hollywood Bowl twice in 2008 and 2010.
Outside of the U.S. and Canada, Ozomatli has played their music across Europe, Asia, Africa, South America, and the Middle East. In 2009, the U.S. State Department approached the band to serve as official Cultural Ambassadors focusing on cultural diplomacy on a series of government-sponsored international tours. The band played free public concerts and hosted musical workshops, master classes, visited a variety of art and youth rehabilitation centers, summer camps, as well as a Palestinian refugee camp.
Proudly born as a multi-racial crew in post-uprising 90s Los Angeles, the band has built a formidable reputation over five full-length studio albums and a relentless touring schedule for taking party rocking so seriously that it becomes new school musical activism.
About Artists for Positive Social Change:
Santa Fe University of Art and Design's Artists for Positive Social Change is a groundbreaking, university-wide series of events, lectures and performances that highlights one theme each year as part of a five-year initiative. All departments of the university engage in an in-depth exploration of the chosen theme, discussing the work of relevant artists who have respectfully and fearlessly pushed the creative boundaries of their medium. During the initiative's inaugural 2011–2012 academic year, Artists for Positive Social Change focused on hip-hop not just as entertainment, but as a significant form of communication and a cultural force around the world. This year's theme is "Art and Political Activism."
About Santa Fe University of Art and Design
Santa Fe University of Art and Design is an accredited institution located in Santa Fe, New Mexico, one of the world's leading centers for art and design. The university offers degrees in arts management, contemporary music, creative writing, digital arts, graphic design, film, performing arts, photography and studio art. Faculty members are practicing artists who teach students in small groups, following a unique interdisciplinary curriculum that combines hands-on experience with core theory and prepares graduates to become well-rounded, creative, problem-solving professionals. As a Laureate International Universities Center of Excellence in Art, Architecture and Design, the university boasts an international student body and opportunities to study abroad, encouraging students to develop a global perspective on the arts. Santa Fe University of Art and Design is accredited by The Higher Learning Commission and a member of the North Central Association, http://www.ncahlc.org.
# # #