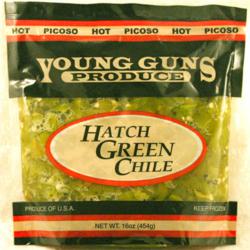 Selling directly to the public online allows us to supply consumers anywhere in the country...
Hatch, N.M. (PRWEB) February 06, 2013
Young Guns Produce, Inc., one of the largest growers of green chile in Hatch, New Mexico, has announced plans to let consumers buy authentic Hatch green chile online by selling it frozen via their website.
"We've traditionally supplied grocery stores and restaurants in just about every state in the nation with both fresh and frozen green chile," says Chris Franzoy, President of Young Guns Produce, "but with the rising demand of New Mexico green chile we decided it was time to sell directly to the consumer as well."
Although their chile is carried by stores across the country, Franzoy says that some people still do not have access to the authentic taste of Hatch chile.
"We're going to increase the number of suppliers in the future, but in the meantime if someone isn't living close to one of our distributors they can still get our product."
With the introduction of online sales, consumers can purchase mild, medium, hot and extra-hot chile in 12, 1-pound bags for $68.00, which includes free 3-day shipping to anywhere in the continental United States. Young Guns Produce also plans to add larger volume packages in the future.
The move to sell directly through their website comes in response to an increase in demand that Young Guns Produce and other New Mexico chile growers have noted in recent years.
"Selling directly to the public online allows us to supply consumers anywhere in the country with the authentic taste of flame-roasted Hatch green chile," say Franzoy, "It's a taste people grow up with and miss dearly when they move away."
About Young Guns Produce, Inc.
Young Guns Produce, Inc. is located in Hatch, New Mexico (also known as, "The Chile Capital of The World"). The corporation was established in February of 1992. The principal owners are Chris and Tammy Franzoy.
Young Guns Produce began its focus on marketing produce grown in Hatch, New Mexico with the idea of supporting the community and delivering great food to the consumer. Chris has always headed up the sales department, and has been at the desk for over 25 years.
The company has evolved into one of the largest suppliers of onions and fresh Hatch Green Chile, pumpkins, and New Mexico Pinto Beans in the Hatch Valley. The newest addition to our Hatch produce is our Frozen Hatch Green Chile.
For more information go online at http://www.younggunsproduce.com or call 1-575-267-3001