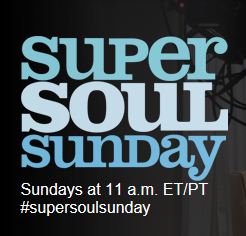 Naples, FL (PRWEB) February 15, 2013
The Emmy® Award-winning series "Super Soul Sunday" delivers a thought-provoking, eye-opening and inspiring block of programming designed to help viewers awaken to their best selves and discover a deeper connection to the world around them.
Home to Oprah's Book Club 2.0, "Super Soul Sunday" features exclusive interviews and all-new conversations between Oprah Winfrey and top thinkers, authors, filmmakers and spiritual leaders. Exploring themes and issues including happiness, personal fulfillment, wellness, spirituality and conscious living, "Super Soul Sunday" presents an array of perspectives on what it means to be alive in today's world.
Guests who have appeared include Wayne Dyer, Gary Zukav, Debbie Ford, Marianne Williamson, Ram Dass, Caroline Myss, DeVon Franklin, Sarah Ban Breathnach, Michael Singer, Daniel Pink, Thich Nhat Hanh and Oprah's Book Club author Cheryl Strayed.
All-new episodes of "Super Soul Sunday" will continue throughout February and March featuring Oprah Winfrey's conversations with today's acclaimed authors and thought leaders about life's big questions. This season's line-up includes Winfrey's mentor Dr. Maya Angelou, best-selling author don Miguel Ruiz of "The Four Agreements," contemporary visionary Panache Desai, one of TED's most-watched speakers Brené Brown, and interior designer and TV personality, Nate Berkus, who, in this exclusive and revealing interview, speaks candidly about the milestones of his life's journey so far: coming out to his family, losing the love of his life, and the cancellation of his daytime talk show.
The series also presents Rainn Wilson's collection of uplifting short films created under his SoulPancake banner. Produced by Harpo Studios. Viewers can join the global conversation online via Oprah.com, Facebook and Twitter using #SuperSoulSunday.