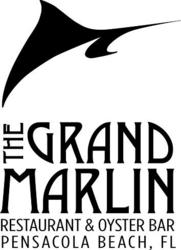 In celebration of his selection, the Tournament Billfish Foundation (TBF) and Goione will unveil the 2013 "Print of the Year" during the Miami Boat Show at The Billfish Foundation's display in the Big Game Room at the Miami Convention Center
Pensacola Beach, Florida (PRWEB) February 06, 2013
Steve Goione, the artist who executed the spectacular murals at The Grand Marlin Restaurant and Oyster Bar and whose work is available on a number of items in the restaurant's Ship' Store, has been selected as The Billfish Foundation's 2013 "Artist of the Year."
"We have been associated with Steve since our opening," said Bryan Housley, President of the Pensacola Beach restaurant. "His murals are a key component of our décor and help deliver the feel that is so important to our atmosphere of quality and excitement. In fact, Steve was here during our first anniversary celebration autographing prints for our most loyal customers. We congratulate him on this prestigious award and are proud we can reflect on our walls and on merchandise in our Ship's Store some great examples of his work."
Goione, whose studio is in Wilmington. N.C., is a regular on the billfish tournament circuit and is the featured artist at sportsfishing tournaments from the U.S. East Coast to the Caribbean and South America. He offers limited edition prints on his website, stevegoine.com.
"We knew coming in that with the billfishing theme that is central to The Grand Marlin we wanted to bring in Steve to help us capture the beauty and excitement of sports fishing that we wanted the restaurant to reflect," Housley said. "He did just that and now he creates a new design every year for our signature clothing line, which is available in our Ship's Store."
In celebration of his selection, the Tournament Billfish Foundation (TBF) and Goione will unveil the 2013 "Print of the Year" during the Miami Boat Show at The Billfish Foundation's display in the Big Game Room at the Miami Convention Center, time and date to be announced.
The TBF works worldwide to advance the conservation of billfish and associated species and to improve the health of oceans. Founded in 1986, the foundation is the world's largest international wildlife tagging program.
For more information about and photos of the Goione's TBF print of the year, view Goione's Facebook page.
For more information regarding joining or supporting The Billfish Foundation call 800-438-8247 or visit their website at http://www. billfish.org.
For more information regarding The Grand Marlin restaurant: http://www.thegrandmarlin.com or 1-850-677-9153