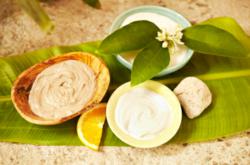 San Francisco, CA (PRWEB) February 09, 2013
Leading natural grocer Whole Foods Market strives for the strictest quality standards with a commitment to organic, eco-conscious products and fair market trade. Whole Foods Market in San Ramon, CA now carries Zion Health's Natural Body Wash with healing bentonite (Kanwa) clay, jojoba ester oil and botanical extracts.
Nearly fifty percent of Americans report having sensitive skin, according to a 2011 study in the International Journal of Dermatology. While there is no singular definition of sensitive skin, the American Academy of Dermatology (AAD) sites dermatologist Leslie Baumann, MD, FAAD, where he refers to four types, all characterized by inflammation. Zion Health's Adama Clay Natural Body Wash for sensitive skin has healing minerals from high-grade bentonite clay and soothing jojoba ester oil. Jojoba oil is actually a natural plant liquid wax and when applied topically, is considered non-toxic by the Environmental Working Group Skin Deep Cosmetic Database. Zion Health's Adama Clay Natural Body Wash combines jojoba oil ester beads formulated to gently exfoliate and reduce inflammation with soothing organic aloe vera to calm sensitive skin.
Zion Health's Ancient Clay Body Wash is a purifying natural body cleanser and contains the active ingredient Kanwa clay. Commonly used in native folk remedies, Kanwa is a magnetic clay with the unique ability to absorb toxins and improve skin circulation. The negatively charged clay particles in Adama Body Wash is known to bind harmful bacteria that cause inflammation. Kanwa is also nutrient-rich, with more than 57 trace minerals in pure form to help replenish depleted nutrients in skin.
Zion Health is pleased that Whole Foods Market in San Ramon, CA now carries Adama Minerals Ancient Clay Body Wash with invigorating botanical infusions of sage, yarrow, & chamomile for a soothing, aromatic clean. Adama natural skin care line with bentonie clay, cleanses and moisturizes sensitive skin without irritating chemicals or abrasive agents.
Zion Health's Ancient Clay Natural Body Wash is now available at Whole Food Market stores in San Ramon, CA as well as select local health food stores in the United States and Canada. Products may also be purchased online at http://www.kanwaminerals.com. Zion Health provides consumers with pure skin and body care products that are 100% vegan, free of parabens and aluminum, and are formulated using certified organic ingredients whenever possible. For more information on Zion Health products, go to: http://www.zionhealth.com.