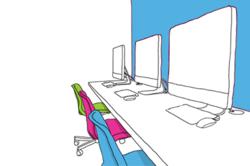 White Plains, NY (PRWEB) February 06, 2013
The Digital Arts Experience, a creative learning hub focused on promoting digital literacy, is now offering its state of the art facility as a modern day workplace solution through two simple and affordable plans. Membership costs are less than $10 per day.
Rob Kissner, President, and his team at The DAE recognize that individuals who work out of the home often complain that they miss the social aspect of working in an office around other professionals. Kissner says, "Home Base provides a productive, collaborative, and creative workspace in which professionals can work by side with other professionals without the high overhead costs of a renting an office."
Home Base offers important office amenities such as print/scan/fax and conference rooms, as well as unique features including an on site professional recording studio, photo/video studio, and computer labs equipped with state of the art Apple computers loaded with Adobe CS6 & other pro software. In addition, Home Base has an in house creative team, offering production services in all forms of media, including graphic & web design, video production, audio production & photography.
Kissner is confident that between the low cost membership options, the flexibility of the facility, and the unique amenities, Home Base will provide the ideal workspace solution for creative professionals. To learn more, visit http://www.workhomebase.com.
Coworking is based on the values of collaboration, openness, community and accessibility. Rather than being isolated at home, surrounded by distractions, coworking enables individuals to work side-by-side with productive, professional, creative people. It makes for an environment where ideas are shared freely and establishes a community of active professionals that prefer working, learning, and growing with each other rather than alone.