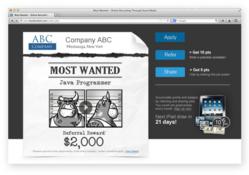 Montreal, Quebec (PRWEB) February 06, 2013
Herd Wisdom, talent management app developer, today released a new beta version 2.0 of Most Wanted, a social recruiting and referral app. The beta release brings new features and improved social media tools to its fast-growing user base.
The new version includes powerful new features and improvements on existing tools, including a searchable public job board, shared access to manage job postings, new social network options, access to pre-built job descriptions, worldwide locations, and the ability to offer non-monetary rewards as referral prizes.
Since its launch in mid-2012, Most Wanted has helped companies bring their recruiting efforts to the social media front with built-in referral rewards and a gamified interface. With the new searchable job boards, users will be able to search among all public job postings by category, position, location, or keywords.
Most Wanted is also now the first cloud-based social recruiting software to offer an extensive job description template library with nearly 200 pre-written job description templates for specific positions.
The latest version features an improved UI making it easy for recruiters to post jobs to Facebook, Twitter, LinkedIn, email and recent addition Google Plus. A complete set of analytics and reports allows managers to measure efficiency and response from different social networks.
With the gamified interface, users are motivated to share postings and refer candidates through points, prizes and referral rewards. The new version gives recruiters the option to offer non-monetary rewards, such as gift cards or time off, in order to cater to their employee base.
"In our fast-paced society where instant gratification rules, gamification is key to increasing participation," said Herd Wisdom founder Paul Blanchard. "At Herd Wisdom, we have taken decades of recruiting experience and brought it into the new frontier by making rewards and prizes an integral part of the recruiting and referral process. This means employees are actually excited to get involved in hiring and retention."
Beyond simply posting links to jobs on Facebook and LinkedIn, the game-like nature of Most Wanted, along with its full set of management tools, provides a complete social recruiting solution to HR professionals and managers. This latest release provides increased reach and capabilities allowing any recruiter to easily launch a full social recruiting and referral campaign.
Recruiters can get started for free with one free job posting, at http://www.herdwisdom.com.