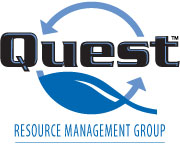 Frisco, TX (PRWEB) February 06, 2013
Quest CEO & Cofounder, Brian Dick, will be a guest on the Triple Bottom Line show on February 6th, where he and host Derrick Mains will discuss Corporate Sustainability initiatives, landfill vs recycling, food waste recycling and more.
Your Triple Bottom Line is a show that focuses on "Your people, Your planet and Your profits." The show airs every Wednesday 11:00am CST, where host Derrick Mains reveals complex ideas around corporate sustainability and social media. The Your3BL show can be heard through live streaming or downloaded as a podcast by visiting this link: http://www.blogtalkradio.com/your3bl.rss
About Quest - (http://www.QuestRMG.com)
Quest Resource Management Group is a full service environmental consulting and management company, headquartered in Frisco, Texas. Quest helps Fortune 500 companies to maximize profits and mitigate risks, while minimizing their ecological footprints. Quest clients span across all key industry segments, including food services, hospitality, healthcare, manufacturing, construction, automotive aftermarket and fleet industries. Quest provides North American clients with comprehensive sustainability programs, innovative recycling solutions and proven environmental protection.
Quest prides itself in delivering targeted solutions exclusively tailored to the needs of each respective client. Quest also offers Return on Investment (ROI) and Return on Sustainability (ROS) based road maps to help clients design actionable programs for managing RFPs, defining operational protocols, creating and implementing training programs, and defining best practices. Quest's Sustainability Intelligence™ Dashboard helps clients improve decision making by extracting greater insights through unsurpassed business intelligence.