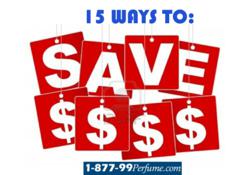 99Perfume.com shares 15 money saving secrets to buying fragrances on a budget.
Manalapan, NJ (PRWEB) February 15, 2013
People all over the world are passionate to save on perfume, but in this day and age it is getting increasingly harder. With prices on the rise, this press release will help share some tips and secrets to buying designer fragrances on a budget.
These 15 amazing secrets will almost guarantee scent lovers savings on their favorite designer fragrances.
1. Buy from a discount site: Discount sites are a key piece to the money saving puzzle. They are specifically designed to broadcast the lowest prices directly to their customers. Discount fragrance sites like 99Perfume.com; carry thousands of designer fragrances for a fraction of the department store prices. By shopping on these sites customers can save hundreds of dollars annually.
2. Ask for Unboxed: When perfume vendors receive their shipments, it is not uncommon for some of the boxes of the products to be damaged in transit; however this has no effect on the product itself. Companies would than sell the same fragrances without the box at a much lower price. Many people are unaware of how much they are paying for the designer box a product comes in, when in reality it ends up being discarded anyway.
3. Coupon Codes: There are thousands of coupons floating around online, ranging anywhere from 10%-20% off a product or purchase. Many online stores even email coupon codes to their customers. By searching the company name with the word "coupon" on search engines like Google, these codes are easily found and the savings are only a few clicks away.
4. Buy a bigger bottle: Bigger bottles often equal a better value. For example, a 3.4 oz bottle of Vera Wang Princess costs $54.99, while a 1.7 oz bottle of the same product is $43.99. That means that by buying the larger 3.4 oz bottle, the customer will get twice as much quantity for only $11.00 more.
5. Store correctly: Experts say that perfumes last the longest when it is stored in cool, dry places and it is kept out of any direct light. Viva Glam Magazine suggests storing fragrances inside a walk-in closest shelf or a drawer because it is safe and "It makes it easy for you to remember to give yourself a spritz while getting dressed." The average lifespan of a bottle of perfume ranges from five to eight years and following these basic guidelines will help get the most use out of every bottle.
6. Apply in the right spots: According to Allure Magazine and Kevin Verspoor, "the best places to apply fragrances are the wrists, behind the knees, the area just above the hip bones, the nape of the neck, cleavage, the small of the back and the insides of the elbows." Pressure points are best places to apply a fragrance because they the warmest points on the body and the heat naturally intensifies aroma.
7. Apply at the right time: Timing is important when it comes to making a scent last throughout the day. Experts at Majon.com say that "The best time to apply a scent is right after a shower or bath. After bathing, your skin pores will be open and will soak up the fragrance." By applying at the right time, a scent will last longer, and limit reapplying, ultimately saving money.
8. Use with their associated products: Many designers make lotions, soaps and powders to enhance their fragrances. It is a good idea to buy sets of products such as the Enigma Gift Set by Alexandra De Markoff, which comes with an eau de toilette, lotion and body powder. Buying Gift sets with a combination of products will allow the purchaser to get the scent they are looking for without having to use as much of the actual fragrance.
9. Free Shipping: A lot of sites offer free shipping to customers who buy a certain amount of products or spend a specific amount of money. People can easily take advantage of that by purchasing everything they need for the year in one order to avoid shipping costs altogether.
10. Pay with a rewards card: Instead of paying with a credit card, it is a good idea to use a rewards card, such as a Capital One card. This way whatever is purchased with the card will eventually pay off in "rewards". Once a credit card is swiped, the money is gone forever, but with a rewards card every purchase brings the buyer one step closer to a cash reward, a gift card, or airline miles to a favorite vacation spot.
11. Negotiate: Try placing an order over the phone and negotiate for a better deal. By purchasing large quantities, smaller online retailers will be keen on closing the sales, giving the customer a customized discount on the purchase.
12. Be Patient: It is always very tempting to buy the latest perfume, but in reality, that is definitely not the way to go! Fragrances are the most expensive when they are first released and slowly deflate back to their actual values after a few months. Waiting a month or two for the hype of a new product to settle down can result in big savings. The extra time will add up to extra money.
13. Clearance Items: Browse through the clearance list of items that a website might has available. The savings can result in additional savings because of a large supply of inventory of a certain cologne or perfume,
14. Ask for Testers: Fragrance manufacturers often make Testers for marketing purposes that are just as authentic as regular fragrances; the only difference being that they do not come with a cap or box. In some cases the bottle might say the word "Tester" on it, but they are not used or opened by anyone besides the actual customer. Testers can cost up to 20% less than capped products and they are sold by various fragrance retailers online. When looking for a fragrance, find out if it comes in a Tester.
15. Rebate Sites - Online Companies are very often listed on rebate sites such as Ebates.com. Once a purchase is made through a member of these sites, an extra rebate can be collected through these partners to be paid in monthly settlements directly to the buyer.
These 15 easy ways to save money will make perfume shopping a breeze, even on a budget.
About the Company:
99Perfume.com was one of the first fragrance companies to go online, establishing their online store way back in 1996. Thanks to a proven model, a great service record and a loyal customer base, the boutique is now able to offer an extensive variety of items at unbeatable prices.