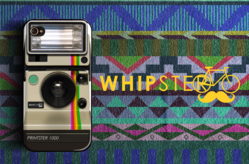 We really expect the Social Media buzz to increase as Valentine's Day gets closer. We have been amazed at how our Social Media channels like Facebook, and Twitter have positively modified our initial marketing forecasts.

- Joseph Azulay
Toronto, ON (PRWEB) February 06, 2013
The past few years has seen a global transformation in the way people communicate with each other with the emergence of smart phones connecting the dots in ways people never imagined possible. Smart phone applications have allowed people worldwide to open up channels of communication to help enhance their personal and social lives, as well as drastically change the way people do business. For a Toronto based start-up company called WHIPSTER Gear, the most important change was the new way in which they could market and sell their trendy, retro iPhone cases to a global marketplace.
There are many companies who offer iPhone cases and covers but nobody does it quite like WHIPSTER Gear. A mix of class, trendy designs, durability and a proven track record of success has WHIPSTER Gear shipping out their iPhone cases to customers worldwide. Fashion accessory and clothing retailers are experiencing high sell through rates and an overwhelming majority have placed re-orders following the Holiday season to meet demands for the now globally popular trendy iPhone cases.
Several months after launching their website and online catalogue, WHIPSTER Gear has gained worldwide popularity by selling their retro iPhone cases online with worldwide shipping to over 27 countries. Brazil is their number one online seller internationally. With Social Media becoming a powerful marketing tool, WHIPSTER Gear has used it as a major force in their over-all marketing and growth strategy. WHIPSTER Gear has over 16,000 followers on Instagram, over 300,000 weekly views on Facebook, and over 28,000 UNIQUE visitors to their website who have gone through over 145,000 pages in the past month alone.
Since introducing worldwide shipping at the beginning of December 2012, the Toronto based vintage iPhone case start-up company sold to over 31 different Countries directly from their online site. WHIPSTER Gear has been featured by many high profile Fashion Bloggers around the world including The Man Repeller and The Fancy, to name a few. In addition, WHIPSTER Gear was featured on Yahoo!, iPhone World and other major online news and mobile news sites.
While the iPhone has become popular around the world the simple black and white color palette just doesn't satisfy the appetite of the fashion conscious, hipster crowd who dig cool new trendy fashions. Especially when there is also a "retro " theme to them. The door was open to a global marketplace that is hungry for a mix of today's technology with cool retro designs. The Social Media craze seems to have accelerated the pace at which WHIPSTER Gear anticipated getting the word out.
"We really expect the Social Media buzz to increase as Valentine's Day gets closer. We have been amazed at how our Social Media channels like Facebook, and Twitter have positively modified our initial marketing forecasts," said Joseph Azulay, VP of Business Development at Whipstergear.com.
As a Valentine's Day promotion Whipster Gear is currently offering 25% off their Friendster iPhone case that is the perfect for couples. "Whether it's for your special childhood friend, for your beautiful other half, or for your secret crush at the office, the Friendster case is the perfect gift for anyone on this Valentine's Day" says Mr. Azulay. Either way, one thing is for sure; through the power of Social Media the whole world is literally talking about these cool, retro and trendy iPhone cases.
We recommend checking Whipster Gear's official Facebook page as well and retro looking website for vintage and stylish iPhone cases, special promotions and new arrivals!
WHIPSTER Gear is a new and exciting, fashion forward company with a focus on creative and contemporary design, functionality, and, above all else, style for all your accessory needs.
WHIPSTER Gear iPhone 4 and 4S cases are designed using retro/vintage styles with the latest in trending graphics, to fashionably protect without compromise.
WHIPSTER Gear targets a broad consumer base with designs that hold appeal across many fashion segments.