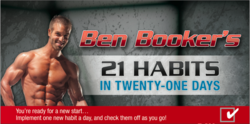 "Don't be overwhelmed by your New Year resolutions. There are tools out there to simplify the process and make it easier to succeed – it's not too late to make a lasting change." – Ben Booker
Chicago, IL (PRWEB) February 07, 2013
According to "Statistic Brain", 36% of people have given up on their New Year resolutions once February hits. With weight loss being the number one resolution made, hundreds of thousands of people have already thrown in the towel on improving their health. The good news? It's not too late to change this.
Studies have shown that breaking down goals into small, digestible habits can increase the likelihood of success. Top inspirational fitness personality, Ben Booker, has created a simple guide to help those still struggling to succeed - 21 Habits in 21 Days.
"I know first-hand how hard it is to break bad habits. Along with changing our bad ones, we must create new ones. I didn't wake up one day with my physique, and I don't expect you to get in the best shape of your life in days, weeks, or even months. To change for the better in all areas of our life we must change daily from the inside out. This is why I created 21 Habits In 21 Days." – Ben Booker
People create habits all the time: going to sleep, grabbing a morning coffee, updating their Facebook status, watching their favorite television show, etc. On average, it takes 21 days for a new habit to stick. 21 Habits in 21 Days outlines the habits that must be changed in order to reach any health and fitness goal. From eating 20+ grams of protein each meal, to choosing wheat over white, to removing enablers; each day adds a simple change.
"Don't be overwhelmed by your New Year resolutions. There are tools out there to simplify the process and make it easier to succeed – it's not too late to make a lasting change." – Ben Booker
For the full 21 Habits in 21 Days and free printable checklist, go to SecondChanceLifestyle.com/21Days.
After an amazing personal transformation, Ben Booker has become one of the top inspirational fitness personalities as the CEO and founder of Second Chance Lifestyle, the inventor of the Razor Hybrid Crossover, a national cover model, and a sought-after motivational speaker.