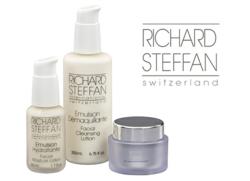 Get social to win a Swiss Skincare Premium program by Richard Steffan on LuxeInACity.com
Montreal, Quebec (PRWEB) February 06, 2013
Caring for skin just got even more fun. LuxeInACity.com, a luxury magazine that curates boutique luxury brands, and Richard Steffan Skincare, a premium Swiss skincare brand established in 1978, are giving away a complete Swiss Skincare Premium program to one actively social fan.
There are several social ways to enter this premium giveaway. Fans are invited to interact with LuxeInACity and Richard Steffan by ways of Facebook, Twitter and Pinterest through a Splurgy widget embedded in at http://www.luxeinacity.com/blog/get-social-to-win-a-premium-swiss-skincare-program-by-richard-steffan. The more social actions, the more contest entries one gets. For example, a fan may choose to follow @luxeinacity, to pin a picture of the prize and to 'Like' both LuxeInACity's and Richard Steffan's Facebook pages, earning them four entries into the giveaway. Another fan might choose to tweet about the giveaway, share a comment on Facebook and follow both brands to get the same number of entries. The more social interaction the fan initiates, the more chances of taking home the Swiss Skincare Premium prize.
About the Prize: Socially active fans will get a chance to win a Swiss Skincare Premium Program from Richard Steffan that includes a Facial Cleansing Lotion, a Facial Moisture Lotion and an Anti-Aging Crème Hydratante.
Why is this skincare program so great? Because of its simplicity and its purity. Richard Steffan Skincare is a result of more than three decades of continuous research in Switzerland by Richard Steffan and his team of dermatologists, biochemists, nutritionists and skin experts that have concluded that "although the skin has a very complex structure, if you understand its needs and use properly formulated products, it eagerly responds to care". The team has developed a simple two-step skin care regimen that works on the skins repair and defense systems to enhance the skins own natural renewal process. The result is a delay in the aging process.
"We've often heard that the best solution is often the simplest. A straightforward skincare regiment combined with a healthy lifestyle can only achieve great results " commented Roxanne Genier, co-founder of LuxeInACity.com. "We are excited to share Richard Steffan as a curated premium skincare brand and to involve our fans through an exclusive giveaway."
This giveaway will run from February 6th through February 16th, 2013 at 12pm EST and a winner will be announced at random on February 18th, 2013. The prize, a Swiss Skincare Premium Program from Richard Steffan, will be shipped to the winner in the following week. Participant may be located internationally and may increase their odds of winner by engaging in more than one social way.
Visit http://www.luxeinacity.com/blog/get-social-to-win-a-premium-swiss-skincare-program-by-richard-steffan for full contest details and to get social active with LuxeInACity.com and Richard Steffan.
About Richard Steffan
Based out of Switzerland, Richard Steffan is a privately owned premium boutique brand that specializes in skincare. All products are formulated and produced in Switzerland and are sold directly to their international clientele. Their philosophy on skincare and skin health goes beyond proper external care of the skin to include every element essential to creating and maintaining a healthy, radiant complexion: nutrition, exercise, water consumption and an overall healthy lifestyle in addition to a simple, quality skincare.
About LuxeInACity.com
Launched in 2011 and with corporate headquarters in Montreal, Canada and Gothenburg, Sweden, LuxeInACity is a curated guide to luxury cities from around the world. Providing priceless information to affluent consumers and travelers worldwide, each luxury city guides features a curated list of premium brands waiting to service the bespoke needs of these high-network individuals.