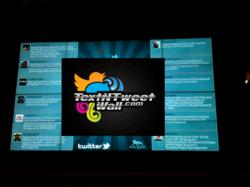 "This new Tweet Wall technology offers many customizable features that offer the potential for branding, creating sponsorship opportunities, and partnerships for local parties and events,"
Dallas, Texas (PRWEB) February 07, 2013
"This new Tweet Wall technology offers many customizable features that offer the potential for branding, creating sponsorship opportunities, and partnerships for local parties and events," said Dennis Walthers, founder and owner Text N Tweet Wall of Dallas. "It is absolutely one-of-a-kind."
In today's society, a vast majority of people, especially under the age of 55, carry a smartphone. One of the most common uses of these phones are to communicate via text message. Texting and tweeting has become even more common than a regular voice call. Text N Tweet Wall took the idea and ran with it in order to create something new and different for the company's potential clients.
"Now users can harness the power of this mobile technology and make company events more interactive and fun," said Walthers. "Guests will be able to interact with everyone else at the event through this interactive technology. It is absolutely amazing and quite an addition to our company to be able to provide this service."
Event guests will be able to vote in real time to communicate with a DJ about which song they would like to hear by making song requests or birthday shout outs and the DJ can respond immediately. If there is a contest at the event, a winner will be notified via text to claim their prize.
"The DJ is more in touch with what the crowd wants to hear and can make the event a true success," said Walthers. "It's all there on this giant projected HD screen. Attending guests can see the live results of voting campaigns and texts and tweets show up in mere seconds from the time users hit the send button."
For people that might send texts that are risqué or have swear words, there is no need to worry. The software has customizable filters for words and phases that will not make it to the big screen. It can run in automatic mode or adminstrators can manually send desired messages to the screen. Photos can also be sent via email but do need to be reviewed and then sent to the HD projection screen. Guests using their smartphones can take pictures in the event and and have them displayed in seconds.
"With customizable graphic's the projected screen can be used for branding or sponsorships. There are no limits when using one's imagination," said Walthers.
-more-
TextNRTweetWall.com also features a marketing campaign for small businesses across the nation by helping them utilize of mobile text communication to build a loyal fanbase that respond to promotions. This helps small businesses grow their business, eliminate overstocked inventory, and hit revenue goals at the end of the month and quarter. This is a turn key marketing package that is simple yet very powerful and very affordable.
"This type of promotional text campaing works for virtually any kind of business such as restaurants, clubs, clothing stores, hair salons, tanning salons, and nail salons to name just a few," said Walthers. "It's fast and easy to set up and can be leveraged within days or weeks of starting.
The Text N Tweet Wall is perfect for events like corporate events, weddings, concerts, parties, or anywhere else there is a large crowd gathered.
To learn more about the benefits of audience interaction and for more information about the Text N Tweet Wall concept, vist the website at http://www.TextNTweetWall.com or call (214) 293-5044.