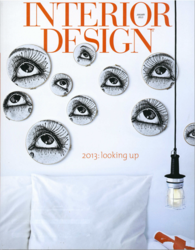 This year is the 14th consecutive year that Marc-Michaels Interior Design, Inc. has been awarded a spot on this list. They were also awarded the No. 1 position in the magazine's list of the Top 10 Residential Giants
Winter Park, FL (PRWEB) February 07, 2013
Marc-Michaels Interior Design, Inc. has received the prestigious honor of being included in Interior Design Magazine's "2013 Top 100 Giants" for the 14th year in a row. This year, Interior Design also named Marc-Michaels the No. 1 Residential Interior Design Firm.
Each January, Interior Design publishes its list of Interior Design industry Giants. Interior Design Giants comprises the 100 largest firms ranked by interior design fees for the 12-month period ending December 31, 2012. This year is the 14th consecutive year that Marc-Michaels Interior Design, Inc. has been awarded a spot on this list. They were also awarded the No. 1 position in the magazine's list of the Top 10 Residential Giants. The data was compiled and analyzed by the Interior Design market research staff in New York, led by Wing Leung, research director.
Each month, Interior Design features a wide variety of interior design projects, the newest products available, industry related news and more. This is the magazine for the interior design professional marketplace; Interior Design offers the most editorial pages of any publication in the field.
For Interior Design's Top 100 Giants, the industry is looking good and continues to gain momentum. The volume of design projects are on the rise and new construction is making a comeback.
Firms like Marc-Michaels Interior Design, Inc., have been using the Internet to generate new work and showcase their impressive design portfolio on the web. "We are using a lot of image driven social media websites to get the word out about our firm's beautiful work," says Marc-Michaels Director of Marketing Kelly Boudreau. "Facebook, Twitter, Pinterest and Houzz are just the beginning for us."
Marc-Michaels Interior Design, Inc. has a very talented award-winning design staff, whose collective experiences span decades. The firm is known for creating a highly differentiated product that's artistic and beautiful interiors are sure to please.
The firm takes on a wide variety of projects including private residences, commercial buildings, model merchandising, condominiums, motor coaches, jets and mega yacht interiors. Offices are located in Winter Park and Boca Raton, Fla. For more information, visit http://www.marc-michaels.com.