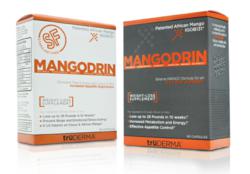 "We're thrilled to offer consumers a safe and effective way to jump-start a weight loss program, or help them maintain the physique they've worked all year for."
Las Vegas, NV (PRWEB) February 06, 2013
For those who are watching their waistline and prepping for swimsuit season, there is one fruit in season that researchers have a sweet tooth for. Thanks to a new brand of dietary supplements, not only will an apple a day keep the doctor away, but African Mango will keep the pounds off.
truDERMA, the trusted manufacturer of popular weight-loss supplements truHGC, truTRIM and DERMASLIM unveils Mangodrin, a revolutionary new rapid fat-burner that ramps up metabolism and helps the body break down excess weight. Recommended by Dr. Mehmet Oz as a valuable component of alternative therapies that aid in weight loss, African Mango is taking the diet industry by storm.
The supplement's meteoric rise comes on the heels of a double blind placebo test that revealed the efficiency of its key ingredient. The secret is extract from the Irvingia Gabonensis seed, a soluble fiber which has been shown in studies to be an effective weight loss agent. In recent studies, Irvingia Gabonensis—more commonly known as African Mango—was credited for its ability to increase the amount of Leptin in our bloodstream. Leptin is responsible for regulating human metabolism and appetite, making the seed one of the most sought-after new ingredients in the supplement industry. In addition to weight loss, Mangodrin has proven to lower cholesterol up to an astounding 27%, and decrease waist circumference, with reported losses of up to 28 pounds and two full inches in just 10 weeks. "With the help of healing Green Tea and Nettle Leaf extracts, Mangodrin's proprietary blend of carefully selected ingredients are the most exciting development to date in the world of weight loss," said Michael Gardineer, CEO of truDERMA. "We're thrilled to offer consumers a safe and effective way to jump-start a weight loss program, or help them maintain the physique they've worked all year for."
truDERMA's Mangodrin is available at GNC, Walgreen's, online and 10,000 + health and wellness retailers nationwide. Readers who would like more information about truDERMA's Mangodrin should visit http://www.truderma.com
About truDERMA
Based in Las Vegas, Nev., truDERMA is a company that has been about solving specific problems rather than being just another 'me too' company. The company researches the best formulations, ingredients, trends and suppliers to help customers reach their personal goals. In particular, the company helps men and women reach their weight loss goals. The company also makes Troxyphen, DermaSLIM, truTRIM, Adrenal Support in addition to Mangodrin and Mangodrin SF. The management team and staff of truDERMA are passionate about healthy living and helping others achieve life-changing goals. The company stands by its products and provides a 100 percent money-back guarantee for product satisfaction to consumers.
EDITOR'S NOTE: To speak with truDERMA's CEO, Michael Gardineer, or for more information about Mangodrin, please contact L. Consoli at 702.321.1624 or pr(at)truderma(dot)com