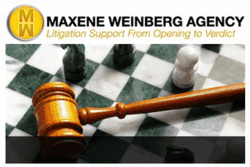 Since becoming a client of Maxene Weinberg Agency in 2005, my depositions have improved dramatically. Maxene Weinberg Agency reporters have been terrific, helping me to make the most of my deposition opportunities.
Los Angeles, CA (PRWEB) February 06, 2013
Maxene Weinberg Agency's website, enables its' clients to schedule depositions and manage their litigation calendars online, two of the deposition services that Maxene Weinberg makes available to the legal community. Maxene Weinberg Agency is an international litigation support provider that works with clients at each stage of the litigation cycle, from the opening of a case through trial.
Wes W. Kennedy, J.D., Executive Vice President of Maxene Weinberg Agency recently remarked, "Our company values the importance of details; our goal is to partner with clients to successfully manage all the details of their litigation matter, from the response to our client's initial contact, through to the delivery of the completed assignment. At Maxene Weinberg Agency, we make the litigation support and deposition process exactly what it should be...perfectly seamless."
When visitors go to the Maxene Weinberg Agency website click on the easy to find "Schedule A Service" button, they will be taken to a simple form where they need only to type in their contact information and information about the service they need. In short order, a Maxene Weinberg representative will be in contact to answer any questions and get the process underway.
The Maxene Weinberg Agency offers a full range of litigation support services including online document management, e-discovery, computer forensics, comprehensive deposition service, including court reporting, realtime reporting, videography and video conferencing, as well as trial presentation and trial support services. Maxene Weinberg clients understand the value of having such an important litigation support partner. Tony Stuart, Past President of CAALA and a long term Maxene Weinberg Agency client recently wrote, "I utilize realtime reporting for all of my depositions, but for years I had serious problems with reporters who simply didn't have the technical expertise to troubleshoot a problem with the RealTime or LiveNote connection. Since becoming a client of Maxene Weinberg Agency in 2005, my depositions have improved dramatically. Maxene Weinberg Agency reporters have been terrific, helping me to make the most of my deposition opportunities."
To learn more about Maxene Weinberg's court reporting service, please visit their website http://www.mwadepos.net
###