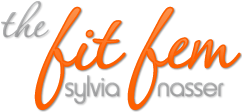 It's Way More Fun To Be A Fit Fem
Hicksville, NY (PRWEB) February 06, 2013
The Fit Fem has launched an online gym for women who might not have the time to spend hours in a fitness studio.
The online gym consists of a number of fun and intense workout that will help women lose weight and tone their bodies. Women can take part in the "Bye Bye Batwings" workout, the "Crazy Circuit," or some kickboxing in the comfort of their own homes.
Studies have shown that more than 30 percent of all women are obese or overweight. Many don't make the time to workout or and in some cases they don't know how to exercise.
The Fit Fem's online gym will not only motivate women to workout, but also teach them how to do so properly.
The new online gym now offers high definition streamed workouts through all Apple devices, so women can get in great workout sessions on their iPhones, iPads or MacBooks.
The workouts and Fitness Program, are taught and were created by Sylvia Nasser, The Fit Fem.
The Fit Fem Studio
Created by Sylvia Nasser, The Fit Fem, in 2010, The Fit Fem Studio is a Long Island based company that focuses on the softer, fun, yet intense side of fitness. The Fit Fem Studio was featured on EverydayHealth.com and EHealth Radio and offers in-home personal training, online, on-demand workouts and group fitness sessions. The business focuses on getting women healthy, but having them appreciate and embrace their bodies during the process.