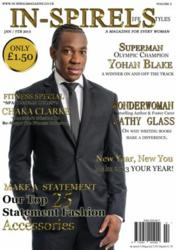 (PRWEB UK) 6 February 2013
In-spireLS is a digital publication with a significant difference and is as innovative as it is creative; and it does what no other magazine has done before. It explores the idea of inspiration and positivity and manages to combine this with all the other areas of an active woman's lifestyle including: Beauty, Fashion, Entertainment, Careers, Fitness, Relationships and Finances.
Since September 2010, In-spireLS Magazine has month by month, increased their readership and as of June 2012 amassed over 1.1 million average hits per month on its online web publication. In-spirels Magazine has now developed into a phenomenal digital publication, available to download onto all Desktops, I-Phones, I-Pads, Androids and other digital mediums. In 2012, In-spireLS were winners of the 'Future 100 Award' and was recognised as being 'one of 100' small social enterprises positively shaping the media industry. The Future 100 Award is created by Striding Out and sponsored by top financiers Ernst and Young - Striding Out is an initiative which supports new and innovative business ideas which have a strong social and/or environmental ethos.
To mark the beginning of a New Year, In-spireLS recently revealed their exclusive interview with Olympic Champion Yohan Blake.
Editor Sasha Shantel says of the feature 'We are very lucky to have had the opportunity to reveal a deeper side of the man himself. The Olympics were a pivotal moment in the lives of millions of people around the world and now we can say that one of the key figures from the games is on our cover; inspiring and encouraging others to follow their dreams.'
In the interview, Sasha Shantel looks at Blake's path to success and gains insight into what drives and inspires him, why negativity will never dictate the direction he takes and why he holds the fastest man in the world and previous Superman feature Usain Bolt as his number one role model.
In-spireLS have captured an EXCLUSIVE interview with this phenomenal track star but promise even BIGGER & BETTER in their next edition - The Business Issue' Out March 20th!
Visit their official website - http://www.in-spirelsmagazine.co.uk and their brand new e-commerce site - http://www.shopin-spire.com.
Be In-spired, Dare to Dream.