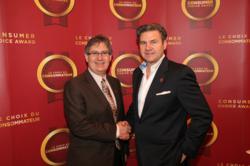 Receiving this Award is yet another incentive to keep building the best security monitoring company in North America, right here in Saskatchewan
REGINA, SASKATCHEWAN (PRWEB) February 05, 2013
The results are in and SecurTek comes out on top. SecurTek Monitoring Solutions has been selected as the 2013 recipient of a Consumer Choice Award in the Alarm Systems category, for the greater city of Regina.
The result of a third-party evaluation of top-ranked industry organizations in 14 cities across the nation, the Consumer Choice Award names winners through a comprehensive market research survey conducted by Leger Marketing, a leading Canadian market research firm. Recognized by 8 out of 10 Canadians, the distinction highlights the power held by consumers in sustaining brand loyalty through diverse and much sought after markets.
"Leger Marketing's rigorous assessment results produce a true measure of the opinions, perceptions and service expectations of the people of Regina," said Marcel Sbrollini, President of Consumer Choice Award (CCA). "Earning a Consumer Choice Award speaks highly to SecurTek's ability to break through the noise, to reach consumers with a distinctive and simple message."
Attending the CCA Winners' Circle Breakfast in Regina earlier this morning, SecurTek CEO Barry Rogers noted that few recognitions can match that expressed by consumers who vote with their wallet:
"SecurTek has made it a priority to better serve its customers. We have efforts underway to make it easier for them to get what they need from us through more intuitive channels, allowing them to access our new generation of services faster, and at price levels they can afford. We receive this 2013 Consumer Choice Award as an inspiring confirmation that the spirit of innovation which drives all SecurTek activities does indeed resonate with our customers."
Receiving this Award is yet another incentive to keep building the "best security monitoring company in North America, right here in Saskatchewan," Rogers concluded.
About SecurTek:
SecurTek is a leading provider of monitoring solutions and event related information services through an extensive dealer network and strategic partnerships, for 70,000 customers across Canada. A subsidiary of SaskTel Telecommunications, SecurTek earned the Five Diamond Certification for providing superior monitoring service in the North American security industry, awarded by the US-based Central Station Alarm Association (CSAA). SecurTek monitoring stations are Underwriters' Laboratories of Canada (ULC) certified, meaning SecurTek meets or exceeds the highest industry standards with regards to call overflow, staffing requirements, response procedures, computer systems and backup power systems.  SecurTek offer burglary, commercial, fire, environmental, medical, video, access control and residential monitoring services.