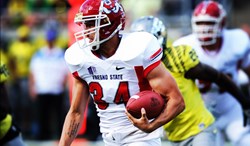 Andrew Shapiro is the most versatile specialist I have ever coached and one of the nicest and brightest young men I have ever met. Pete Germano.
Rolling Hills Estate, CA (PRWEB) February 11, 2013
Sports Agent Jill McBride Baxter has signed Draft Eligible Punter Andrew Shapiro to a Representation Agreement according to Jill McBride Baxter.
McBride Baxter, who represents NFL players such as Jets punter Robert Malone and Dolphins wide receiver Marlon Moore, and recently signed Internet kicking sensation Håvard, says she signed Shapiro for many reasons.
"I signed Andrew because he has great hang time (5.0), can directional punt to the left and right, and has a great kickoff leg," says McBride Baxter. "In addition he kicks field goals and PAT. He has held for a left footed and right footed kicker and he can cover and tackle. He has a lot of speed. He has long legs and potential to be a great specialist in the NFL. He is a great athlete."
Go here for Andrew Shapiro's profile at Sports Agent Jill McBride Baxter's website.
Some of Shapiro's accomplishments include:

In 2012 he was the fastest specialist in Fresno State History (4.53 (40), 3.96 (shuttle), 33.5 (vert).
In 2012 he named Honorable Mention All-Conference.
In 2012 punted 64 times for an average or 42 yards and a net of 37 yards.
In 2012 punted a long of 69 yards which tied for the second longest in the conference.
Named National Honorable Mention Punter by College Football Performance Award's four times.
Named to the All-Conference Academic Team three years in a row.
Named special teams captain as a sophomore in 2010 and again in 2012.
Punted 66 times in 2011 for 40 yards with a long of 54.
Had 25 punts fair caught and 21 downed inside the 20-yard line (ranked 19th nationally inside 20).
Kicked off 17 times in 2011 for 65 yards.
Has kicked of 89 times with an average of 63 yards.
Has 10 tackles and 1 fumble recovery.
Shapiro says there were many reasons he decided to sign with McBride Baxter.
"Jill Baxter has an enormous amount of qualities that drew me to signing with her," says Shapiro. "First, her knowledge of the game and awareness of special teams throughout the college and NFL worlds is phenomenal. Second, paired with her hard working persona, Jill has a constantly expanding list of connections throughout all different realms within the sports and business worlds. When someone is looking to enter any kind of professional sport, they need someone by their side they can trust and work with, and no one else gave me that feeling besides Jill."
Shapiro says while Jill is hard at work trying to place her clients in the right places, she goes beyond what other sports agents might do for their clients.
"What other agents fail to do is care for, and help, their clients outside of sports as well," says Shapiro. "When you sign with Mrs. McBride Baxter, you're not only signing an agent, but a friend and reference for you future after sports."
McBride Baxter is not the only one impressed with Draft Eligible Shapiro. Pete Germano, Special Teams Coach at Fresno State in 2012, says that in his twenty years of coaching he has never been around a player like Andrew Shapiro.
"Andrew Shapiro is the most versatile specialist I have ever coached and one of the nicest and brightest young men I have met," says Germano. "He can kick with both feet, punt, kick off, kick field goals and PAT. He is a great student of the game."
Special Teams Coach Pete Alamar of Stanford, who was previously a special teams coach at Fresno State, echos Germano's praise of Shapiro.
"His ability to hit a high ball along with his expertise in directional punting and Aussie punting makes him a pro prospect," says Alamar. "Once you factor in his kickoff, field goal and holding skills his potential is limitless."
"His work ethic and passion sets him apart from the competition," says Alamar. "Whoever he competes against better bring their lunchbox. Andrew is truly a 4 tool specialist. He is accomplished at punting, kickoffs, holding and can also kick field goals."
According to McBride Baxter, Shapiro will be working to complete his Master Degree in the spring. She says he will also continue to work out with the excellent weight staff and coaching staff at Fresno State to prepare him for the NFL.
Go here for more about Draft Eligible Punter Andrew Shapiro.
Go here for more about Sports Agent Jill McBride Baxter.