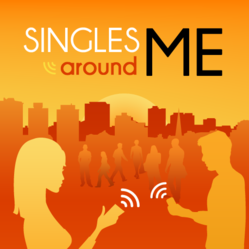 I've had complete success using this phone app. I met someone the day after I dowloaded the app. Thanks to the unique feature of this program (the local aspect) and a little bit of luck, I found my soul mate, dare I use that term. Ana Toronto, Canada
New York, New York; London, England (PRWEB) February 06, 2013
The popular social discovery mobile GPS dating app SinglesAroundMe (SAM) next generation smart phone apps include enhanced privacy controls to ensure safe but flirtatious exchanges this Valentine's Day.
While traditional online dating sites show streams of singles within a city, SinglesAroundMe actually introduces singles literally next door thanks to the GPS enabled SAM (SinglesAroundMe) search function within the app.
The newly updated iPhone and Android apps not only connects singles within their immediate location anywhere on earth, but it also solves security issues expressed by some users about revealing their location.
For the first time anywhere, users can choose exactly how much—if any—of their actual location on maps they want to share; they can choose to keep it Exact, Hidden or now Approximate, which displaces their precise location on maps by approximately 1-2 miles or 2-3 kilometers.
What this means for users is they now have complete control of their privacy. If they are at home and want to hide their location they can do so, but if they choose to switch their location to "Approximate" it displaces them outside of their immediate neighborhood. If they are out or feeling engaged they could switch their location to exact and meet people close by, in real life!
The app mirrors real life and offers the opportunity for singles to serendipitously meet someone who shares similar interests around them. Results through SinglesAroundMe are more immediate and are a time and energy saver for busy people.
In an effort to also help singles improve their chances to flirt, meet and date locally, wherever they are in the world this Valentine's Day, SinglesAroundMe is also introducing a new "Message Radius" feature. Now, users who wish to receive only messages from singles within a preset distance of their location can control just how far away they wish to communicate with someone i.e. 30 miles, 60 miles, etc. making it hyper-local or opening it up to the world.
CEO Christopher Klotz said recently "SinglesAroundMe continues to innovate and lead the new world of social discovery dating apps. Our next generation apps are a testament to this, as they are smart, intuitive and safe for the millions of users around the world."
Download the Android app at Google Play
Download the iPhone app here:
Download the Blackberry app here:
Launched in 2010, SinglesAroundMe has been pioneering location based mobile dating ever since. With over 1 million users in over 100 countries, SinglesAroundMe is enjoyed by singles worldwide. The app is offered on the iPhone, Blackberry and Android devices with additional access via its mobile and web sites.
Press contact:
Hattie Sellick
Hattie(at)singlesaroundme(dot)com
212-401-8690
SinglesAroundMe