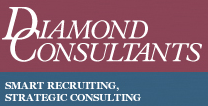 2013 will be a robust year for advisor movement across all channels with wirehouse recruiting deals at a high water mark, and with the addition of many more high quality, compelling options in the independent space
Chester, NJ (PRWEB) February 06, 2013
Diamond Consultants today released its assessment of financial advisors on the move in 2012 based on its own proprietary annual data aggregation. Reviewed every year since the firm's founding in 1998, the information highlights trends and provides insight into advisor sentiment with regard to their options for moving between firms, and infrastructure models.
The firm's data confirmed that 2012 was an average to down year for advisor movement due in large part to several variables including:

Still unforgiven wirehouse retention packages for quality advisors
A perceived "sameness" among the wirehouse firms
Significantly stronger interest in independence (which requires a longer due diligence process), fueled by top advisors looking for greater control and freedom
Uncertainty in the regulatory environment
"We observed that larger advisors (those with higher annual production and total assets under management) were exploring options and on the move to take advantage of the record high transition packages being offered by wirehouses and because frustration levels amongst the longest tenured advisors at these firms have increased substantially," said Mindy Diamond, the firm's President & CEO. "Our numbers correlate with the overall industry slowdown of advisor movement last year."
Ms. Diamond continued, saying, "We placed nearly the same number of advisors with wirehouses as we did with independent broker-dealers in 2012, accounting for the majority of our deals. The most interesting data point for us, however, was that larger advisors and teams turned to us for counsel than the year before. The average T12 of the advisor we moved in 2012 was up significantly, which is a good trend for us to see and one we expect to continue in 2013."
Momentum and interest in the RIA and regional space accelerated on a year over year basis indicating that advisors are looking at factors other than the largest transition check, such as:
A desire for greater control, freedom and autonomy
The ability to work in a conflict free environment
Superior brand identification and the desire to build equity in one's own business
A long-term succession plan
Regional firm deals tend to range between 25% and 60% less than wirehouses deals. Independent firms offer anywhere from no transition money, to 100% cash up front at a quasi-independent firm like HighTower Advisors (still approximately 1/3 less than wirehouse packages). "Advisors tend to do due diligence in several channels before making a move, and don't choose independence for a short-term payday, rather taking the long view" Diamond notes.
In addition, movement to the bank channel was down significantly. As Diamond explains, "The bloom is off that rose. For years, advisors found the greatest appeal in this space to be the cross selling opportunities between bank and brokerage, but the majority of advisors today feel that the opportunity to cross sell is more of a myth than a reality."
Another reason for the slower pace of advisor movement in 2012 was the uncertainty surrounding the regulatory environment and what FINRA has in store for advisors in 2013 with regard to broker disclosure of transition packages to clients. Some advisors made a move in 2012 to avoid this issue, but the majority chose to wait and see.
Overall, the Diamond data and advisor feedback indicates that 2013 will be a robust year for advisor movement across all channels with wirehouse recruiting deals at a high water mark, and with the addition of many more high quality, compelling options in the independent space.
Diamond concludes: "There are more and better ways to be a financial advisor than ever before and we believe 2013 will be the year that more thoughtful advisors choose to make well-timed moves."
###
About Diamond Consultants
Founded in 1998, Diamond Consultants is the nation's leading relationship-based recruiting and consulting firm for financial advisors. The firm has helped scores of advisors at traditional brokerage firms and independent business owners tackle issues such as career optimization, growth acceleration, succession planning, scalability, expansion, efficiency, and recruiting. Diamond Consultants has successfully placed hundreds of advisors allowing them to reach their goals through monetizing their practices, achieving independence, or gaining complete open architecture to better serve their clients and grow their businesses faster.
###