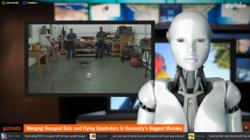 "We are particularly excited to be able to support a Miami-based startup that is re-imagining the future of news." - Ben Wirz, director of business consulting for Knight Foundation
Miami, FL (PRWEB) February 08, 2013
Guide, a new technology startup, announced Tuesday its initial round of investors and advisors, including Knight Foundation, Sapient Corporation (NASDAQ: SAPE), the founder of MTV Bob Pitman, actor and producer Omar Epps and Google's Employee #13, Steve Schimmel.
Led by CEO and Founder Freddie Laker and COO Leslie Bradshaw, Guide is a software company focused on turning online news, social streams and blogs into video for anyone wanting to curate and consume content when reading isn't an option, such as when on the treadmill, making dinner, multitasking at work or getting ready in the morning.
Knight Foundation, the leading funder of journalism and media innovation, is supporting Guide through its new early-stage venture fund, the Knight Enterprise Fund.
"Guide is launching a fun, new engaging format for online news that gives all publishers, from bloggers to large news companies, the ability to offer their audiences a video experience," said Ben Wirz, director of business consulting for Knight Foundation. "We are particularly excited to be able to support a Miami-based startup that is re-imagining the future of news."
A list of the company's key investors include: Knight Foundation, Sapient Corporation (NASDAQ: SAPE); Bob Pittman, founder of MTV; Steve Schimmel, Google Employee #13; LCH LLC, led by Nate Latour; WAM LLC, led by Albe Angel, Gary Weiner and Matt McKenna; Drew Lauter, investor in Mercy; Jason Sanders, investor in Mercy.
Guide CEO and founder Freddie Laker said he is excited about this first group of investors and advisors and is confident in their unique perspective, counsel and expertise.
"We were careful to bring in smart money from angels and companies who understand just how big our vision is," he said. "Our investment and advisory teams bring diverse experiences and a shared passion around the future of media."
A complete list of the company's board of advisors, some of whom are also investors, include: Gaston Legorburu, worldwide chief creative officer at SapientNitro; Rachel Sklar, founding editor at Mediaite and The Huffington Post and founder of TheLi.st; Angel; Epps; McKenna; Schimmel; and Weiner.
Legorburu, a member of Guide's advisory board, emphasized the alignment:
"At SapientNitro, we're always interested in exploring the latest innovations and technologies for a world driven by an increasingly connected and mobile consumer," he said. "For content to travel wherever today's always-on consumer goes, it must be powered by smart, flexible platforms. Guide is exploring areas that could change the way that people read and consume media across tablets and Smart TVs — and further out, could have an even bigger impact."
Guide board member and investor Steve Schimmel talked about joining the team and the evolution of the product so far:
"Freddie and I have been chatting about Guide since it was just a rough concept in his mind," he said. "I've seen the technology improve at a remarkable pace and can't wait to see it in users' hands. I am excited to be supporting the team on their journey."
Officially in private alpha this week, Guide will be launching in public beta in early March 2013.
About Guide
Guide is an app that turns your favorite online news, blogs and social streams into video. Using cutting edge avatar technology and the latest generation of text-to-speech technologies, Guide reads and displays your content so you don't have to read it. This allows content to be consumed while you cook, exercise, commute, eat, work or go through your morning ritual. Guide launched in private alpha the first week of February and will launch in public beta at the 2013 SXSW Interactive Festival. Founded in 2012 by serial entrepreneur and former VP of Strategy at SapientNitro Freddie Laker, Guide is based in Miami, Florida where Chief Operating Officer Leslie Bradshaw and its core team of engineers are located. To learn more or to sign up for pre-release access, visit http://www.gui.de.