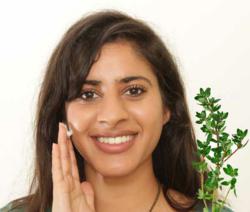 Herbal preparations are less harsh on the skin at the same time, our results suggest they can be just as, if not more, effective than chemical treatments
(PRWEB) February 05, 2013
If you or someone you know is concerned about the presence of acne pimples, now there is a safe and natural acne remedy. The standard treatment for acne involves antibiotics or creams containing the chemical benzoyl peroxide. Anything containing benzoyl peroxide is liable to create irritation and other side effects and long term antibiotic use kills the good bacteria and reduces body's resistance to diseases.
According to recent research at Leeds Metropolitan University in Leeds, UK. The thyme tinctures, proved highly effective at soothing the skin and killing the acne causing bacterium. Largely due to its anti-inflammatory and anti-bacterial properties, the herb thyme has earned itself a place as a natural skin care remedy. In fact, the thyme tincture was more powerful than benzoyl peroxide, which is the active ingredient in many popular acne products without the side effects. The new findings were presented at the Society for General Microbiology's Spring Conference in Dublin.
A molecular biologist at SKIN all natural™ studied the various molecules in Thyme and its effect on the cellular structure of the skin and came up with the formulation that is effective against both teen and adult acne. Acne Clear Natural offers an effective alternative to chemical based topical solutions.
About SKIN all natural™
Inspired by the ancient Ayurvedic tradition of India and backed by modern scientific research, SKIN all natural™ is a paradigm shifting skin care brand of Choice All Natural, Inc. a US based manufacturer and marketer of high quality, plant derived alternatives for beauty, health and wellness consumers. http://www.skinallnatural.com