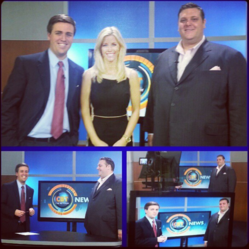 You are a dealership so you don't need to remind them that you have cars for sale there.
Atlanta, GA (PRWEB) February 06, 2013
Joe Webb, president and founder of DealerKnows, stopped by the CBT News studio to provide viewers with expert insight on Internet sales, social media advice and his beginnings in the auto industry.
Webb, who is commonly known as the funniest man in the car business, started his career as a sale representative and primarily focused on Internet sales and marketing. Although he worked his way thorough dealership roles such as sales management and finance management, Webb still managed to create top Internet departments and business development centers. His department was known to close more than 50 percent of the dealership's total sales and 90 percent of appointment traffic.
In 2008, Webb founded DealerKnows to provide dealers with knowledge and training in Internet sales, a practice many dealerships were neglecting four years ago. Today, DealerKnows is a team of professionals who creates both on-site and virtual training programs that can help dealers maximize online opportunities.
Webb is considered an industry leader on lead management, process distribution, dealership structure, and inventory merchandising. He shared some of his expert advice with CBT News during a recent interview. One major topic he discussed was managing social media:
"Social media should be a lot more about customer attention and more about branding their dealership and serving past customers," Webb says. "That's how they should be using the platform opposed to a running stream of their inventory."
During the interview, Webb also shares a few tips to help boost a car dealer's Internet sales and marketing by suggesting what a social media page should contain an offering insight on what viewers are looking for.
CBT News has reported that now, more than ever, marketing has made a crucial shift towards social media and getting your brand out into the social media outlets can prove to be an effective business strategy.
Webb reveals more tips and numbers that can help improve a car dealer's social platforms during his full interview, at http://www.cbtnews.com.
View all of the CBT newscasts at http://www.youtube.com/CarBizToday
CBT News/Car Biz Today, is an online news source dedicated to providing the retail automotive industry with news, training and event coverage through various forms of multi-media journalism. The online news source has over 25 thousand subscribers made up of new car dealers an their personnel. CBT News is home to award winning broadcasters and is headquartered in Atlanta, Georgia.
Visit CBT News at http://www.cbtnews.com